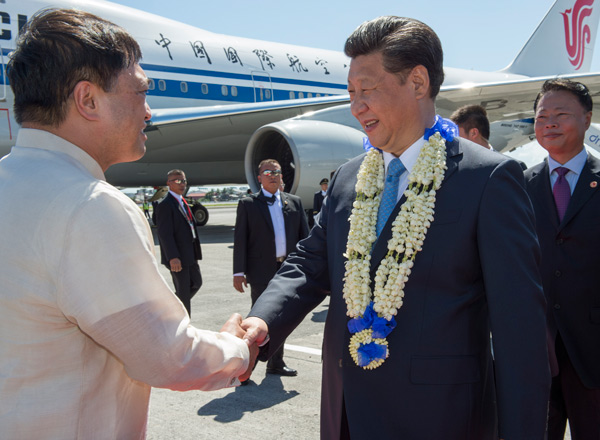 Chinese President Xi Jinping, right, shakes hands with Philippines' Finance Secretary Cesar Purisima upon Xi's arrival at the international airport in Manila, Nov 17, 2015. President Xi Jinping is in the country to attend the Asia-Pacific Economic Cooperation (APEC) Economic Leaders' Meeting. [Photo/Xinhua]
MANILA - Chinese President Xi Jinping arrived in Manila on Tuesday to attend the 23rd Asia-Pacific Economic Cooperation (APEC) Economic Leaders' Meeting.
During the meeting, Xi will expound China's policy on cooperation in the Asia-Pacific region and the implementation of the consensus reached at last year's APEC meeting in Beijing.
The Chinese president is also expected to introduce the progress made in implementing the Belt and Road Initiative and the opportunities the proposal brings to the region and the world.
President Xi's presence at the APEC meeting shows China's support to the host country and that China attaches great importance to APEC process, said Chinese Foreign Minister Wang Yi a week ago during a working visit to the Philippines.
He added that APEC economies reached an important consensus on regional cooperation during last year's meeting held in Beijing. China hopes this year's meeting will continue the momentum and further promote regional economic and trade cooperation.
Themed "Building Inclusive Economies, Building a Better World", this year's APEC meeting will focus on such specific subjects as regional economic integration, small and medium-sized enterprises, human capital development and sustainable growth.
As the top-level and most representative cooperation mechanism that covers a wide range of areas in the Asia-Pacific, the 21-member APEC has played an important role in advancing trade liberalization and facilitation, promoting economic integration and boosting connectivity.
The Free Trade Area of the Asia-Pacific (FTAAP) has become a new objective for APEC regional integration, said Chinese Vice-Commerce Minister Wang Shouwen, adding that China is willing to work together with relevant parties to complete a collective strategic study of the FTAAP by the end of 2016.
Wang also disclosed that leaders at the APEC meeting are expected to issue a statement on supporting multilateral trade system.
The Asia-Pacific is vital to global peace and development. It accounts for 40 percent of world population, 48 percent of world trade and 57 percent of global output.
Xi arrived here after attending the G20 summit in Turkey's coastal city Antalya.