FUZHOU, China - Lee Chong Wei finally downed his longtime rival Lin Dan in a three-set thriller to make the final of the China Open here on Saturday while the host still earned themselves chances to win all five titles.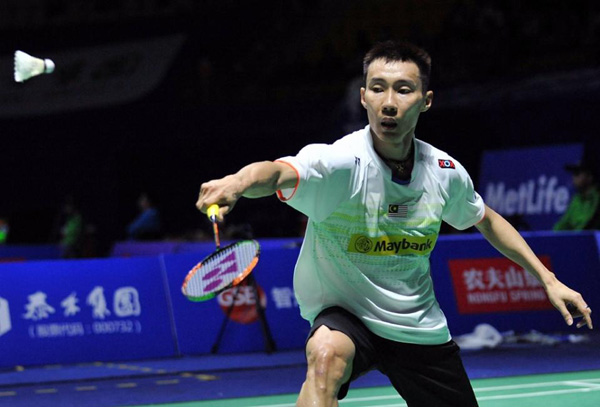 Lee Chong Wei beat his long-time rival Lin Dan in a tight three-set semi-final at the China Open on November 14, 2015. [Photo/Agencies]
Crowd favorites Lin and Lee set up an intriguing semifinal as the former world No. 1 of Malaysia came from behind to beat "Super Dan" 2-1 after an breathtaking battle which went 92 minutes.
Lee, who hoped to reverse a sequence of five straight losses to Lin, overcame a first set slump at 17-21 and regained the momentum with more resolute smashes when opportunities came up, winning the close duel in two straight 21-19.
He will meet Lin's teammate and current world No. 1 Chen Long on Sunday.
It was the first defeat of Lin, who is nicknamed "Super Dan" among his fans, against Lee since 2012. However, Lin still boasts a superior head-to-head record with 25 wins in their 35 meets.
Neither player appeared at peak today and it wasn't possible their best encounter. However, with the sheer athleticism, control and imagination to cheer the fans all through the match, they were still regarded as the iconic shuttlers of the sport with the "Lin vs Lee battle" tipped as the box office guarantee.
"I have never beat Lin Dan in China before. Today I succeeded, and the victory is a big boost for me," said the 33-year-old Lee, adding that he treated the match as the final to fight for.
Lin, who beat Lee always at big stage such as the London and Beijing Olympic finals, said he was satisfied with his form despite losing the match.
"It's a pity that when I took the lead in the first two games, I failed to seize the chances to win," said the 32-year-old Lin.
"When we played against each other, the quality of the match was always good. Today is no exception. We both played well," he added.
Elsewhere, China earned themselves berths in each of the other four finals on Sunday, when women's singles will see defending champion Saina Nehwal take on London Olympic champion Li Xuerui.
Nehwal, the Indian world No. 2, was untroubled in most of time and beat Li's teammate Wang Yihan in straight sets at 21-13, 21-18.
Li Xuerui had an easier route to the final after her compatriot Wang Shixian received treatment for a muscle strain in the first set. Wang, unable to move normally in the second set, could not offer much challenge to Li as she went down 21-14, 21-5.
"Li Xuerui is a tough opponent, I hope to give my best. I want to play my natural game. She's very strong and I need to plan properly," said Nehwal.
The men's doubles final will see Kim Gi Jung/Kim Sa Rang play against the host's pair Chai Biao/Hong Wei. Yu Yang/Tang Yuanting will take on Japan's Misaki Matsutomo/Ayaka Takahashi in women's doubles. In mixed doubles, Zhang Nan/Zhao Yunlei, who earned their 20th win in 23 meetings against compatriots Xu Chen/Ma Jin, will meet Denmark's Joachim Fischer Nielsen/Christinna Pedersen.