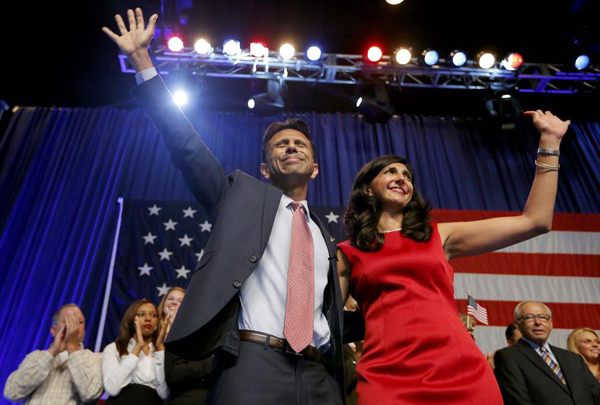 Republican presidential candidate and Louisiana Governor Bobby Jindal waves with his wife Supriya Jolly after formally announcing his campaign for the 2016 Republican presidential nomination in Kenner, Louisiana June 24, 2015. [Photo/Agencies]
He kicked off his campaign in a light-hearted way, with online videos of himself and his wife, Supriya, telling their three children he was running and promising his daughter they would get a puppy if they moved to the White House.
During the launch, Jindal sought to dismiss opposition to his candidacy, saying he was running "without permission from headquarters."
He argued he had turned Louisiana into a place with fewer ethics problems than in its past and with more people moving into the state than out of it.
Jindal, a Christian who converted from Hinduism as a teenager, is popular with social conservatives and evangelical Christians. However, his home state appeal faded this year as he tried to close a $1.6 billion shortfall in the state's budget without breaking a promise not to raise taxes.
Republicans in the state complain he spent too much time trying to court national attention while Louisiana floundered.