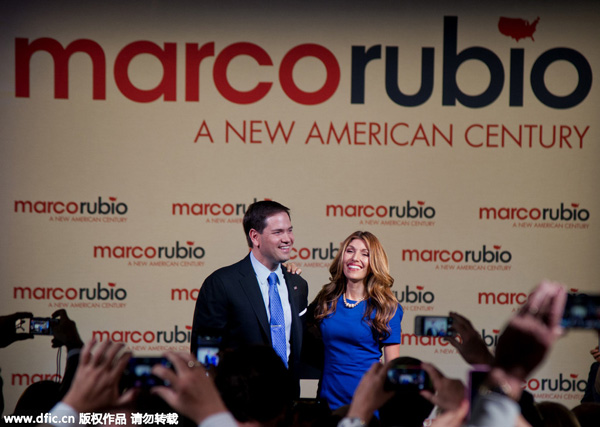 US Senator Marco Rubio (R) with his wife Jeanette announces his running for the Presidency of the United States, at a rally in the Freedom Tower, Miami, Florida, April 13, 2015. [Photo/IC]
WASHINGTON - Republican Senator Marco Rubio from the state of Florida announced his decision Monday evening to enter the 2016 US presidential race.
"I announce my candidacy to the presidency," said the 43-year-old Senator from Freedom Tower in Miami, Florida.
"Yesterday is over. And we are never going back," Rubio said in front of a banner with the slogan "A New American Century."
"Before us now is the opportunity to author the greatest chapter yet in the amazing story of America," he said as the crowd cheered, adding that "we can't do that by going back to the leaders and ideas of the past."
Earlier on Monday, Rubio told top donors in a conference call that he is running for the US president, saying that he feels "uniquely qualified" to be president and criticized Democratic presidential candidate Hillary Clinton as "a letter from yesterday."
Elected as senator in 2010 with Tea Party support, Rubio is now the third Republican in the race, following Texas Senator Ted Cruz and Kentucky Senator Rand Paul. His announcement came one day after Hillary Clinton threw her hat in the ring and began her campaign for the White House.
Analysts believe that Rubio "doesn't fit the typical Republican stereotype of being an old white Republican" and "has the opportunity to connect with voters through his own story."