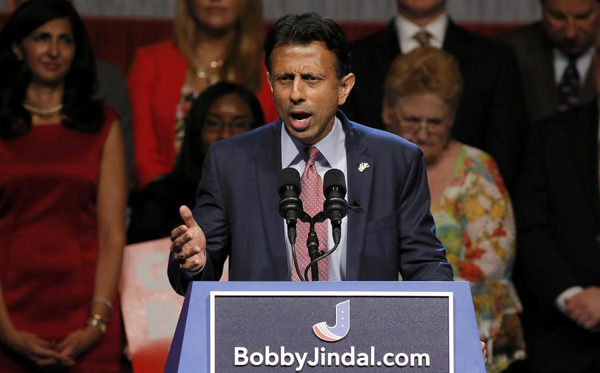 Republican presidential candidate and Louisiana Governor Bobby Jindal formally announces his campaign for the 2016 Republican presidential nomination in Kenner, Louisiana June 24, 2015. [Photo/Agencies]
KENNER, La. - Louisiana Governor Bobby Jindal joined the 2016 US presidential race on Wednesday, starting dead last among a very crowded field of hopeful Republican candidates in at least one poll.
"I am tanned, rested and ready for this fight," Jindal said during a campaign launch event held in a suburb of New Orleans, promising supporters he would "rock the boat."
Jindal, 44, is the first person of Indian-American heritage to run for US president.
A two-term governor, once seen as a rising star in his party, joins 12 other Republicans, including former Florida Governor Jeb Bush, among the hopefuls seeking the nomination for the November 2016 election. Others, including Wisconsin Governor Scott Walker, are expected to join the race.
Jindal is in last place in a Reuters/Ipsos online poll of 15 Republicans, drawing less than 1 percent support. It could be difficult for him to make it to the top 10 candidates in national polling who will participate in the party's first debate in August.