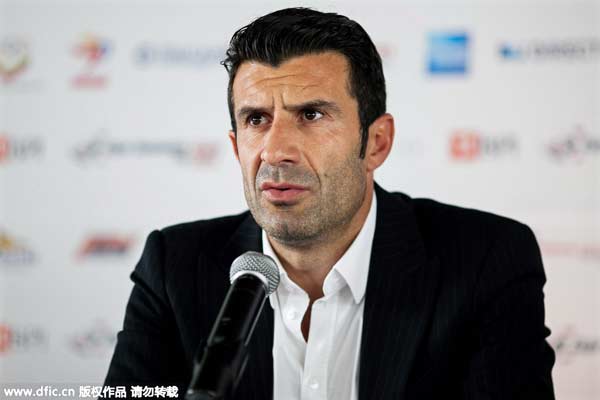 A file photo of former Portuguese soccer player Luis Figo. [Photo/IC]
LISBON -- Portugal's former soccer star Luis Figo announced on Thursday that he has decided to withdraw from presidential race of the World football governing body FIFA, saying that the electoral process "is not a normal electoral act."
In a written statement, Figo said that the incumbent FIFA president Sepp Blatter, who is running for a fifth term, had not even presented a manifesto, there were no debates for candidates and FIFA under him is a "dictatorship."
"This electoral process is anything but an election," Figo said. "This process is a plebiscite to hand over absolute power to a single man, something that I refuse to countenance. That's why, after reflecting on my own and exchanging opinions with two other candidates in this process, I understand that what will happen on May 29 in Zurich is not a normal electoral act."
He said that in the last few months he had witnessed "a series of episodes, in various parts of the world, that should shame a free, clean and democratic football."
The presidents of national federations in private compared FIFA's top officials "to the devil" but the next day "they would get up on stage and compare those same people to Jesus Christ," he added.
Figo's decision came just hours after Dutch candidate Michael van Praag also quit the race. After their withdrawal, the only challenger for Platter is Jordan's Prince Ali bin al Hussein.
The 42-year-old Figo announced his candidacy for FIFA presidency on January 28 this year, saying the FIFA needs urgent reform due to its lack of transparency, credibility and corruption.
Figo, who played for Sporting, AC Milan, Barcelona and Real Madrid as well as being captain of Portugal national team, won the 2000 Ballon d'Or and 2001 FIFA World Player of the Year.