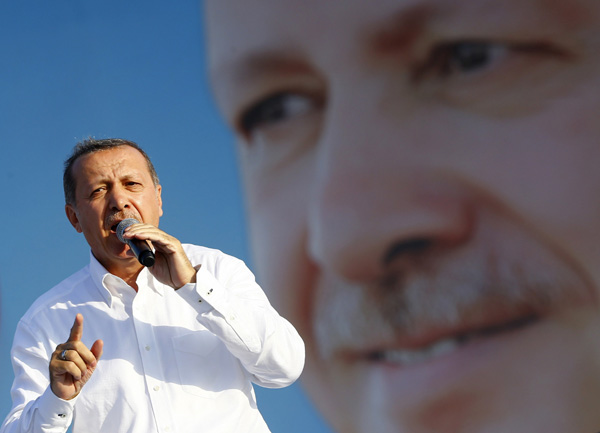 Turkey's Prime Minister and presidential candidate Tayyip Erdogan addresses his supporters during an election rally in Istanbul August 3, 2014. [Photo/Agencies]
ISTANBUL - After dominating Turkish politics for more than a decade, few doubt Erdogan will beat his main rival Ekmeleddin Ihsanoglu, a diplomat with little profile in domestic politics, or Selahattin Demirtas, a young Kurdish hopeful.
But Erdogan's opponents say it has been an unfair contest, a charge the prime minister dismisses. An Erdogan victory would concentrate more power in the hands of a man who has divided Turkish society along secular-religious lines and worried Turkey's western allies.
While his rivals have funded their rallies mainly from donations, Erdogan has turned his public appearances, some of them state-financed, into a show of strength, from the ground-breaking ceremony of Istanbul's third airport in June to the launch of a high-speed train line in late July.
He criss-crossed the country in the prime ministerial jet to address supporters, effectively beginning his campaign well before the July 31 start date set by the election board. Erdogan's spokesman said the prime minister had ceased using his official plane and car since the formal start of campaigning.
The election board last month rejected an appeal from the main opposition party CHP that Erdogan should resign as prime minister in order to run his presidential campaign. Erdogan points to the election campaigns run by Barack Obama and Angela Merkel while they remained in office.
"In my opinion, Erdogan is like an athlete permitted to use illegal steroids or drugs yet permitted to compete," said Cem Toker, head of Turkey's opposition Liberal Democrat Party (LDP) who has written extensively about Turkey's electoral system.
"His time in power, his popularity and his charismatic appeal give him a fair advantage as an incumbent. However, his use of state funds and resources without any discretion gives him a very unfair advantage," said Toker, whose party is backing Ihsanoglu.
Several European delegations that have visited Turkey to observe the campaign echoed Toker's concern.
"The campaign activities of the prime minister are large-scale events, often combined with official government events," said the Organization for Security and Cooperation in Europe, which monitors elections, in an interim report on July 31.
"While other candidates actively campaign, the public visibility of their campaigns is limited."
An OSCE delegation noted that children's toys and women's scarves were distributed to the crowd following a speech by Erdogan in the Black Sea coastal city of Ordu on July 19.
A spokesman for Erdogan's office said none of the premier's campaigning activities were in breach of the law.
"The bottom line is what the law says and there is nothing being done against the law here. He has stopped using his usual vehicle and plane since the formal start of campaigning," the spokesman said.