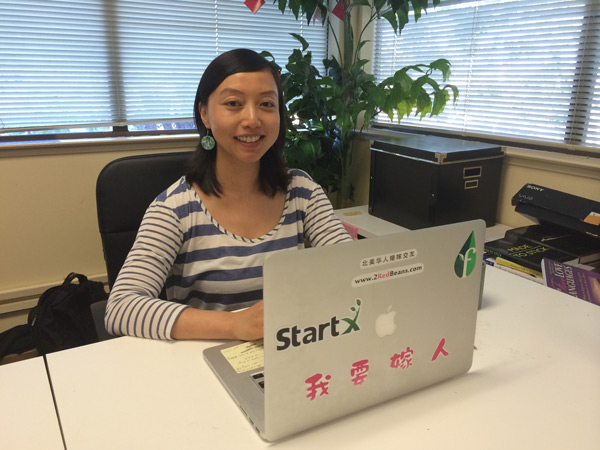 Zhao Qinghua, founder of 2RedBeans, an dating website created for Chinese Americans, is five months pregnant.She met her husband on 2RedBeans. Provided to China Daily
When Zhao Qinghua started 2RedBeans, an online dating website for Chinese Americans in 2011, she wanted the service to fill in the blank on the Internet dating market.
"I found many services were quite general when they do the matching, while Chinese Americans have certain preferences when they look for someone," said Zhao. "So I thought services provided by 2RedBeans will help many Chinese people in the US and Chinese Americans who tend to find people of the same heritage and cultural values," Zhao recalled.
Popular dating sites include Match.com, eHarmony.com and JDate.com, a service that aims to match Jewish singles, to which 2RedBeans is similar. But 2RedBeans, said Zhao, has a special twist of matching single Chinese Americans based on cultural values and categories that they are particularly interested in. "Our research shows that Chinese-American users are interested in certain elements such as the potential match's status in the US (either Green Card or citizenship), and the birthplace (which decides if the person is an immigrant or born in the US)," said Zhao.

Female users from Taiwan are the most popular and male ones from Hong Kong are the most "aggressive" to approach others, said Zhao.
Data show among 100 million singles in the US, 40 percent of them would try online dating. With a lean team of about a dozen people, 2RedBeans currently has a 15 percent market share of the 1.3 million Chinese American users in North America. The top three cities where 2RedBeans has the most registered users and successful matches (of those who decide to get married) are Northern California, New York and Southern California, said Zhao.
Ken-Hou Lin, a sociologist at the University of Texas in Austin said his study of a mainstream website shows that when people search for a partner, they have a strong preference for those who share similar attributes.
"People are getting married later than they used to, which means that when they are searching for a partner, they are facing a thinner market," said Lin. "The attempt to search for a potential partner at workplace might have negative professional consequence."
C.N. Le, director of Asian and Asian-American Studies at the University of Massachusetts in Amherst, said websites like 2RedBeans offer an "easy and convenient" place to find potential mates, given the busy schedules of many.
"The Internet and mobile phone technology has significantly changed many aspects of human life, and so it's inevitable that interpersonal relationships are the next step," Le said.
Zhao, 37, who has an engineering doctorate and is based in Cupertino, California, came to the US in 1998 for her graduate studies. Her introverted personality - similar to many Chinese - and busy schedule - as what Le pointed out - got her to try online dating before she launched 2RedBeans.
But nothing happened for her.
"Many sites didn't cater to what Chinese Americans are looking for - or maybe they don't know," said Zhao, who is five months pregnant and met her husband on 2RedBeans the first month when the site was launched.
"I was then anxious to create something for Chinese singles that are in a similar situation to me," she said.
Le, the sociologist, said the power of assimilation is very strong among Americanized immigrants or the children of immigrants.
"They may still include others from their own ethnic background in their dating pool, but they are also very open and willing to date people from other racial, ethnic backgrounds as well."
Michelle Lam, a 29-year-old public relations professional from New York, fits this pattern, but reversely.
"I dated men who are not Asian and I had to explain all of our traditions including food (why do we eat moon cake, rice cakes, dim sum, the meaning behind oranges and red envelopes during holidays) and how come family will always be a priority," said Lam of her past experience of dating people from other cultures.
Lam, one of those busy, upbeat young professionals in the city, tried online dating for a few years, which her traditional Chinese family was skeptical about, but no Mr. Right came along.
Lam decided to take a break when one summer night - about four years ago - she was taking the usual D train from Manhattan to Brooklyn from work to home, a guy sitting near her passed on an E-note.
"I inched closer to her by moving from one seat to the next, then I used my Apple iPod touch and typed out: 'I will regret it the rest of the night if I didn't know your name," recalled Vinny Wong.
It was love at the first sight, recalled Lam, who is marrying Wong, a Chinese American also born in New York, next month.
Contact the writer at yuweizhang@chinadailyusa.com
(China Daily USA 07/28/2014 page2)