Turkey opposes Kurdish split from Iraq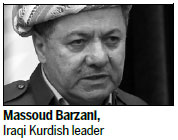 The Turkish government said on Monday that it was against Iraq's Kurdistan region splitting away from Baghdad, after Sunni militants seized a vast swathe of territory in Turkey's conflict-torn neighbor.
"The government is very closely monitoring the developments in Iraq," Deputy Prime Minister Bulent Arinc told reporters after a Cabinet meeting.
"The entire world knows our official view: let Iraq not be split up, let guns not be directed against one another, let people not shed each other's blood, let outside powers ... pull their hands out of Iraq and let Iraq proceed on its path as an integrated society," he said.
Militants from the Islamic State of Iraq and the Levant - which has now renamed itself the Islamic State - have now declared a "caliphate" straddling Iraq and Syria.
ISIL's actions in Iraq have alarmed countries in the region and sparked calls for Kurdish autonomy in Iraq to counter the radical Islamist threat.
Iraq's Kurds will hold an independence referendum within months, their leader Massoud Barzani said on Tuesday.
Israeli Prime Minister Benjamin Netanyahu called on Sunday for independence for Iraq's Kurdistan region, where Kurdish peshmerga security forces have mobilized to fight against ISIL.
Turkey - which has its own Kurdish minority - has traditionally been vehemently opposed to the notion of Kurdish independence.
Yet in recent years, Turkey has built up strong trade ties with Iraq's Kurdistan region and Prime Minister Recep Tayyip Erdogan has moved to satisfy some of the demands of Kurds in Turkey.
In May, Turkey began exporting oil supplies from Iraqi Kurdistan to international markets, drawing the ire of the central government in Baghdad.
Recent comments to The Financial Times made by Huseyin Celik, spokesman for Turkey's ruling AKP party, had suggested that Ankara could tolerate an independent Kurdish state in northern Iraq.
But Arinc brushed away the Israeli prime minister's remarks and insisted that Ankara was committed to the territorial integrity of Iraq.
"There is no doubt that Netanyahu represents his government ... but the fact that he made this comment does not mean that it is going to come true. There is a state in Iraq with its Constitution," Arinc said.
Fighters from ISIL in June had kidnapped 49 Turks including diplomats and children from the Turkish consulate in Mosul, and separately, seized 31 Turkish truck drivers.
Arinc said there was no positive development yet about the situation of the Turkish hostages, adding that the government was doing its best for their immediate release.
"We are hoping to meet them (the hostages) during Ramadan," he said, referring to the holy Muslim fasting month that has just started.
(China Daily 07/02/2014 page11)
Today's Top News
Editor's picks
Most Viewed