Roller coaster fan notches 5,000th thrill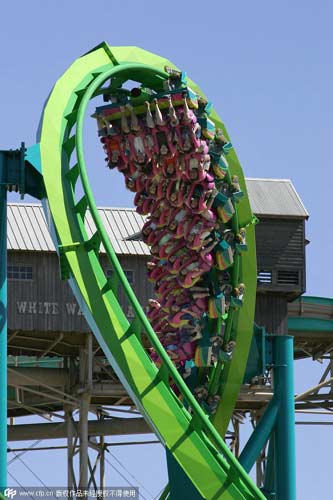 Hydra the Revenge, the only floorless roller coaster in Pennsylvania, comes alive at Dorney Park as the park opens for the season. [Photo/CFP]
An 82-year-old fan of a historic Pennsylvania roller coaster celebrated his 5,000th ride on it — sitting for more than eight hours straight and logging 95 spins around the wooden ride in a single day.
Vic Kleman marked the milestone on the Jack Rabbit at Kennywood in the Pittsburgh suburb of West Mifflin. His number of rides honored the roller coaster's 95th birthday this season.
Kleman has been riding the world's fifth-oldest roller coaster since 1959, when he moved to Pittsburgh.
He offers one tip to fellow aficionados: he always chooses the fifth seat, maintaining that it offers a smoother ride in the middle away from the wheels.