Breathing trick can help insomniacs; app tries to tell guys how manly they are; bride-to-be sends groom to school to learn homemaking skills and a warning that over-laundering bras can damage breasts. Interesting, red-hot and downright odd anecdotes from around the world in our news review of the week.
Groom Academy to train a perfect husband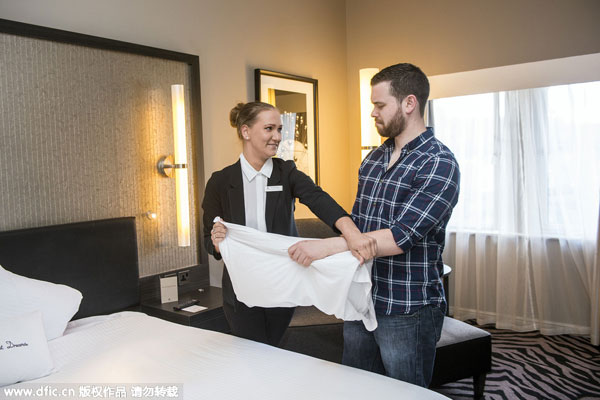 Nick being tutored by head housekeeper Eva Pilkasusksite. [Photo/IC]
One bride-to-be signed her fiancé up for a   £199 ($311) course designed to transform undomesticated grooms into perfect husbands-to-be. The classes, offered at Edinburgh's DoubleTree by Hilton hotel, which calls its concept the Groom Academy, helps husbands hone their skills at ironing, bed-making, cooking and even cocktail making.
Jennifer Hutchinson, 28, from Falkirk, will marry Nick Hogarth, a 30-year-old hotel manager from Denholm, Scotland, in August after going out for almost eight years. But Jennifer remained unimpressed with her fiancé's prospects, as Nick has always put football, Playstation, work and his mates before her. He still can't put the loo seat down.
Jennifer thinks he'll be a great father one day but needed whipping into shape and hopefully the experience has done that. Now Nick has all the skills he needs to be a great husband, said Jennifer.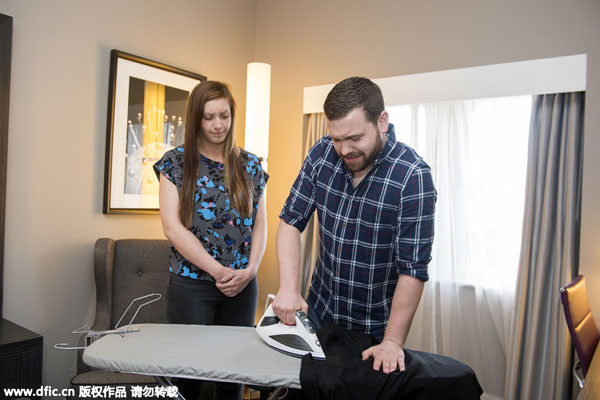 Nick does the ironing for Jennifer. [Photo/IC]