Guests at a Brazilian wedding see triple as sisters marry, happiness rules at a Hobbit hotel, love keeps growing for platinum couple, raw fish diet saves shipwrecked sailor and a new hand for a lucky seven-year-old. Interesting, funny and downright odd anecdotes from around the world are all in our kaleidoscopic news review of the week.
Triple happiness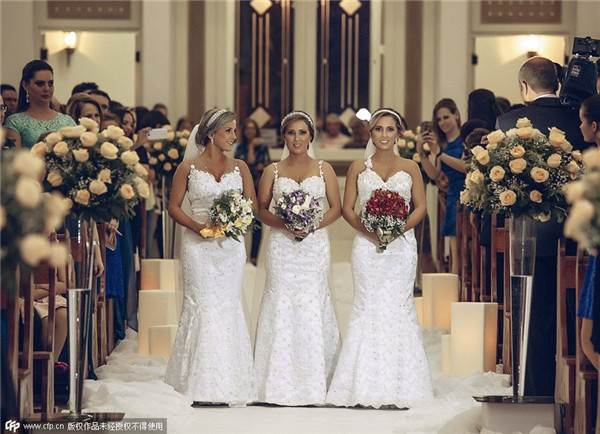 Brazilian triplets from left, Rafaela, Rocheli and Tagiane Bini at their triple wedding in Passo Fundo, Brazil, March 21, 2015. [Photo/CFP]
Guests at a Brazilian wedding may have thought they had drunk too much champagne, but they were not seeing triple - three identical sisters had married.
Rafaela, Rocheli and Tagiane Bini wed Rafa Rafael, Gabriel, and Eduardo Thome, respectively, in a joint wedding ceremony at Catedral Nossa Senhora Aparecida in Passo Fundo last month, fulfilling their childhood dream of walking down the aisle together.
The 29-year-old trio wore identical white mermaid gowns with similar hairstyles and makeup. The only distinction was the color of their bouquets: yellow for Rafaela, blue for Rocheli and red for Tagiane.
They were followed by 18 bridesmaids and pageboys, who were dressed in different colors, depending on which bride they were representing.