Thrill seeking fan coasts to 5,000th turn on veteran wooden ride; Indian rubber man breaks own world record; German granny, 65, gives birth to quads and a walk in the park that takes less than a minute. Interesting, red-hot and downright odd anecdotes from around the world in our news review of the week.
Timid lion climbs tree to escape buffalo herd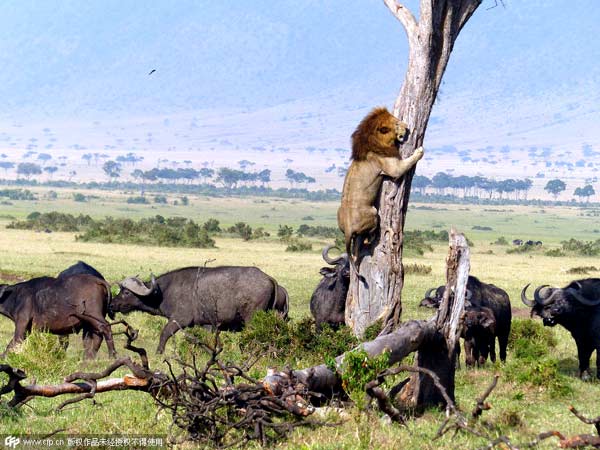 The cowardly creature scales a tree to avoid being trampled by angry buffalo. [Photo/CFP]
Remarkable pictures have emerged of a cowardly lion fleeing a herd of angry buffalo by scrambling up a tree.
The lion was chased by the herd after being discovered stalking a baby buffalo.
Despite retreating, the danger wasn't quite over as the buffalo - prone to trampling - gathered under the tree to wait for the lion to fall.
After a few seconds clinging onto the tree the lion began to tremble and slide down the trunk. In desperation the big cat let out a snarl and suddenly leapt from the tree and disappeared into the bush.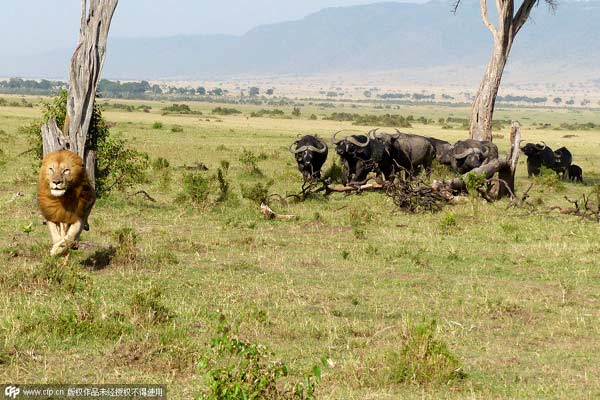 After leaping to the ground the lion wastes no time in speeding away. [Photo/CFP]