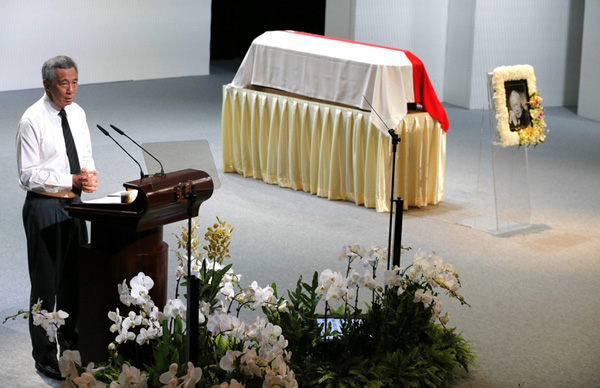 Singapore's Prime Minister Lee Hsien Loong, delivers his eulogy during a state funeral of the late Lee Kuan Yew, held at the University Cultural Center, March 29, 2015, in Singapore. [Photo/IC]
SINGAPORE - Singaporeans bid farewell to longtime leader Lee Kuan Yew with an elaborate procession Sunday and a three-hour state funeral where his son, the current prime minister, eulogized the statesman and declared that the wealthy Southeast Asian city state he helped build is his monument.
Undeterred by heavy rain, tens of thousands of people lined a 15-kilometer (9-mile) route through the city to catch a glimpse of the funeral cortege. Lee's coffin, draped in Singapore's red and white flag and protected from the downpour by a glass casing, lay atop a ceremonial gun carriage that was solemnly led past city landmarks from Parliament to a cultural center where the state funeral was held.
Along the way, crowds of people chanted "Lee Kuan Yew," snapped photos with smartphones and waved Singapore's flag.
"To those who seek Mr. Lee Kuan Yew's monument, Singaporeans can reply proudly: Look around you," Prime Minister Lee Hsien Loong said in the first of 10 eulogies at the funeral, which was attended by more than 2,000 people, including schoolchildren, Singapore's elite, world dignitaries and royalty.
Occasionally drawing tears and laughter, Lee said an important part of his father's legacy is that "Singapore's voice is heard and we enjoy far more influence on the international stage than we have any reason to expect."
As the service neared its conclusion, civil defense sirens blared across the island to signal a minute's silence. The government had asked public transport to stand still.