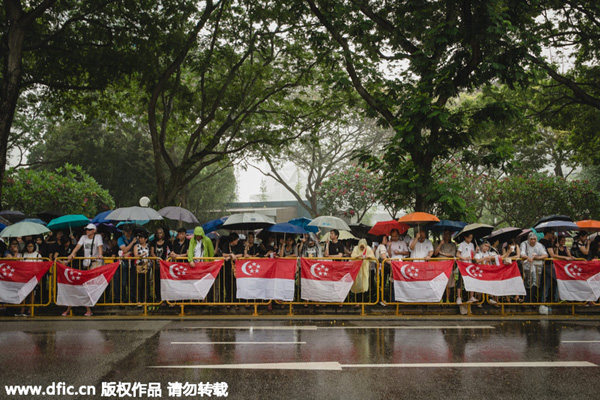 Members of the public wait in the rain for the passing of the funeral procession of late Lee Kuan Yew in Singapore, March 29, 2015. [Photo/IC]
SINGAPORE -  A state funeral for Singapore's former prime minister Lee Kuan Yew began on Sunday with thousands of Singaporeans gathering along the street in heavy rain to bid farewell to founding father of the city state.
The procession, which covers a distance of 15.4 km, will pass major landmarks, such as Old Parliament House, City Hall and the Padang, as well as heartland areas, en route to the University Cultural Center (UCC) of National University of Singapore.
Singaporeans, young and old, gathered along the street to pay their last respects to the first prime minister who ruled Singapore from 1965 to 1990. The crowds cried "Lee Kuan Yew," waving the national flag when the cortege passed by.
During a week of national mourning that began Monday after Lee's death at age 91, some 450,000 people queued for hours for a glimpse of Lee's coffin at Parliament House. A million people visited tribute sites at community centers across the island.
After the state funeral, Lee, who died last Monday at the age of 91, will make his final journey to Mandai Crematorium.