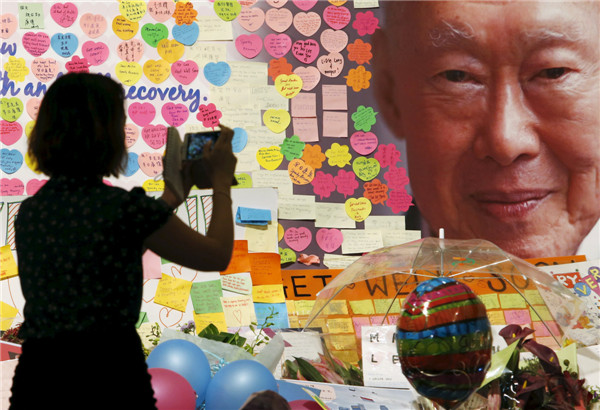 A woman takes photos of cards for former Singaporean prime minister Lee Kuan Yew, placed at a well-wishing corner at the Singapore General Hospital in Singapore, March 23, 2015. [Photo/Agencies]
The man who influenced my life most passed away on Mar 23, 2015.
Lee Kuan Yew, the founding father of Singapore, leaves behind a legacy in the hearts of 5 million Singaporeans. Since 1965 when our tiny island republic became independent he has shaped our core values, linguistic abilities, work ethics and instinct for survival against all odds.
The Singaporean abroad is respected as a hard and able worker. The Singaporean at home has efficiently made our tiny nation a role model of good government with zero corruption.
Critics have called us names, including that of a robotic island state and arrogant piece of rock. Most of all they have called us a little red dot primarily because most of our citizens are of Chinese descent. This little red dot, however, has glowed like a beacon in a region where politics can be rough play and neighborliness can be major efforts in diplomacy.
Lee guided Singapore through these stormy shoals for more than half a century and, carved out an irreplaceable position in the hearts of all Singaporeans. From day one, he chose his partners in government with care and caution and his cabinets through the years initiated and succeeded in countless social-economic experiments.
I am the result of one.
Despite being a girl, I was given equal opportunities in school, enjoying an education that placed equal emphasis on civic and scholastic excellence. In addition, I was schooled in woodworking and basic electricity in the belief that even girls should learn these elementary knowledge. To this day, I can use a plane to make dovetail joints and put together a male and female socket.