Lee Kuan Yew's mourners line up for 10 hours
Overwhelmed by the huge crowds who have turned out to pay respects to founding leader Lee Kuan Yew, Singapore tried on Friday to discourage citizens from joining the lines - but many said they were undeterred by the wait of up to 10 hours.
The city-state seemed unprepared for the scale of the outpouring of grief since the 91-year-old patriarch's death on Monday. Lee, who was Singapore's prime minister for 31 years, is regarded by other Singaporeans as the architect of the country's economic success.
Lee has been lying in state at Parliament since Wednesday. More than 230,000 mourners had paid their respects by midday on Friday, according to an official count.
The round-the-clock line starts at the Padang - a large grassy field used for parades, concerts and sports. But a notice posted on Friday morning said: "Members of the public are strongly advised not to join the queue at the Padang now." It urged mourners to go instead to 18 community sites to pay homage to Lee.
The notice said mourners who arrived at 10 am could expect to wait up to 10 hours for a chance to file past the former leader's casket.
At busy times, mourners can only spend a few seconds in front of the remains, many bowing quickly before being ushered to the exit.
Despite the government's appeal, many Singaporeans braved a scorching sun for a chance to see the flag-draped casket of their former leader.
"The government can advise us not to queue all they want, and I understand this puts a strain on resources like volunteers and space, but that's not going to stop us from coming down," said mourner Pek Tee Ann, 51.
Also on Friday, eight organizations from the Chinese, Malay, Indian and Eurasian communities jointly held a memorial ceremony to pay tribute to Lee. Prime Minister Lee Hsien Loong - Lee Kuan Yew's son - and over 2,000 guests attended the memorial ceremony at Kallang Theatre.
Meanwhile, former Malaysian prime minister Mahathir Mohamad, one of Lee Kuan Yew's greatest rivals, said he was saddened by Lee's death although the two leaders often clashed and seldom agreed on issues.
"I cannot say I was a close friend of Kuan Yew. But still I feel sad at his demise," Mahathir said in his first comments on the death of his rival, posted on his blog on Friday.
Lee is to be given full state honors before being cremated on Sunday.
AFP - AP - Xinhua - Reuters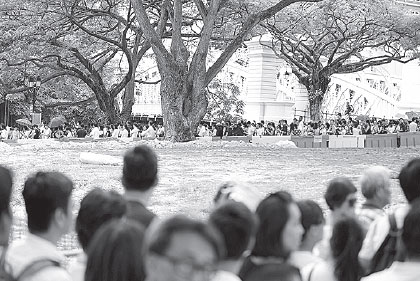 Members of the public line up to pay their respects at the casket of former prime minister Lee Kuan Yew, lying in state at Parliament House in Singapore on Friday. Mohd Fyrol / Agence France-Presse
(China Daily 03/28/2015 page11)
Today's Top News
Editor's picks
Most Viewed