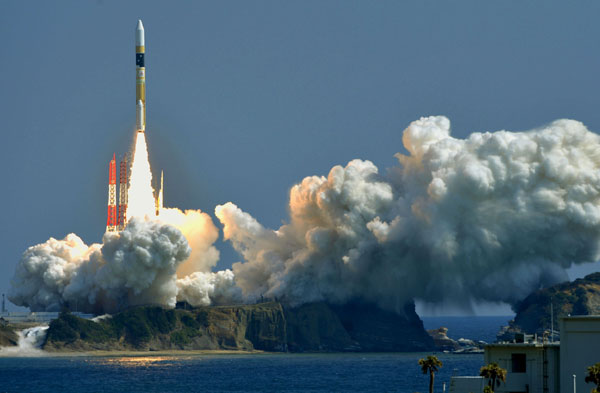 A H-IIA rocket, carrying a information gathering satellite, lifts off from the launching pad at Tanegashima Space Center on the Japanese southwestern island of Tanegashima, in this photo taken by Kyodo March 26, 2015.[Photo/Agencies]
TOKYO - Japan on Thursday launched an information-gathering satellite (IGS) with an optical reconnaissance payload on an H-2A rocket, the country's second launch this year.
The Japan Aerospace Exploration Agency (JAXA) and Mitsubishi Heavy Industries, Ltd.-- Japan's space agency and the commercial operator of the H-2A rocket--launched the spy satellite aboard the H-2A Launch Vehicle No.28 at 10:21 a.m. (0121 GMT) on Thursday from JAXA's Tanegashima Space Center in Japan's southwestern Kagoshima prefecture.
About 20 minutes later, JAXA announced the separation of the rocket and the satellite as planned and the satellite successfully entered orbit.
Intelligence satellites are believed to be employed to monitor ground surfaces to gain information related to national security and disasters.
Operated by Japan's Cabinet Satellite Intelligence Center, which reports directly to the government's executive leadership, the country's IGS program consists of optical and radar imaging spacecraft.
Thursday's launch carried the 14th spacecraft in Japan IGS series. It is also the country's fifth launch of satellites in fiscal 2014 (April 1, 2014-March 31, 2015), hitting a record high number in a single fiscal, and only 53 days after Japan launched a backup intelligence satellite on Feb.1, the shortest interval of time ever in the country.
Japan launched a prototype third-generation optical IGS spacecraft in 2013, the operational version of which made debut with Thursday's launch. Thursday's launch carried the first third- generation spacecraft for the series, Optical 5, which will obtain high-resolution images with a telescopic optical camera. The imager's exact capabilities, however, are kept secret by the Japanese government.