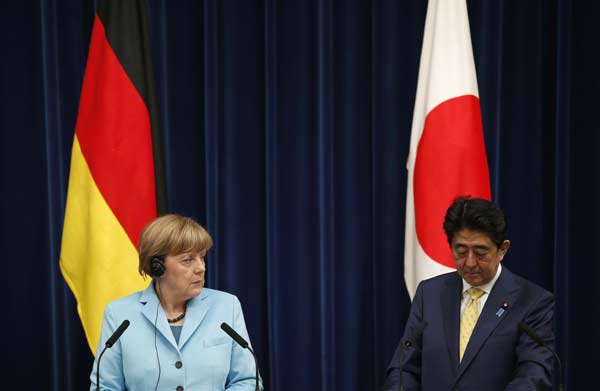 Germany's Chancellor Angela Merkel (L) and Japan's Prime Minister Shinzo Abe attend their joint news conference after their talks at Abe's official residence in Tokyo, March 9, 2015. [Photo/Agencies]
Japan should adopt a correct perception of its history of aggression against Asian countries to avoid losing its conscience again.
The international community came to a definite conclusion about those responsible for the fascist war. Unlike Japan, Germany, the other chief initiator of the war, has chosen to take responsibility for its wartime actions. It has also adopted legal measures to prevent fascism rising again. In sharp contrast, Japan has always wavered between right and wrong when it comes to this part of its history.
Their different perceptions of the war have led Germany and Japan down different paths. Germany has not only been reconciled with its former enemies, it has also been a main engine of European integration.
However, due to its failure to free itself from its wrong historical perspective, Japan is at times creating problems for the region, and correspondingly it has failed to regain the trust of its once-victimized Asian neighbors.
To accept responsibility for past wrongdoings serves as the precondition for Japan to realize postwar reconciliation with its neighbors, as German Chancellor Angela Merkel said during her visit to Japan early this month.
Having waged a barbaric war of invasion against its neighbors and caused them enormous suffering, Japan must first look at itself, before it begs for understanding and trust from its neighbors.
Japan will find itself increasingly isolated if it continues to deny the wrongs it committed and to challenge common sense and international justice.
This is an abridgement of a People's Daily article on March 24.