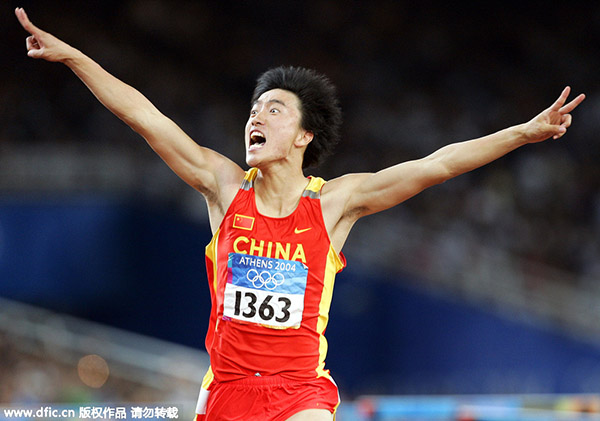 Liu Xiang celebrates as he crosses the finish line to win the men's 110 hurdles final at the 2004 Olympic Games in this Aug 27, 2004 file photo. [Photo/IC]
Liu Xiang, China's Olympic 110m hurdles gold medalist and former world record holder, is expected to announce his retirement on Tuesday after more than two years of treatment for an ankle injury. The 32-year-old hurdler's goodbye announcement has taken a lot longer than expected, because he was unlikely to return to action at his age after surgery. Comments:
The professionalization of track and field sports is also needed in this country. People are often more obsessed with the benefits that the sports industry generates, however, and they show insufficient care and respect for the athletes who play a central role in all sports. Indeed, Liu was able to make notable achievements in hurdles with his natural gifts thanks to the special treatment he received, but he is also a victim of China's current sports system.
Xu Bei, a guest commentator with Guangzhou Daily, April 6
Given Liu's current physical condition, sooner or later he had to announce his retirement. Yet he could have avoided more controversy and accusations had he made the announcement earlier.
Bai Feng, a guest commentator with eastday.com, April 4
Unlike those "outsiders" of China's sports system, such as basketball player Yao Ming and tennis player Li Na, Liu has been unable to decide when and where to announce his injuries and retirement. Announcing his retirement after most of his sponsorship contracts have ended, he was apparently trying to avoid angering his official managers.
Mai Ka, a guest commentator with ifeng.com, April 4