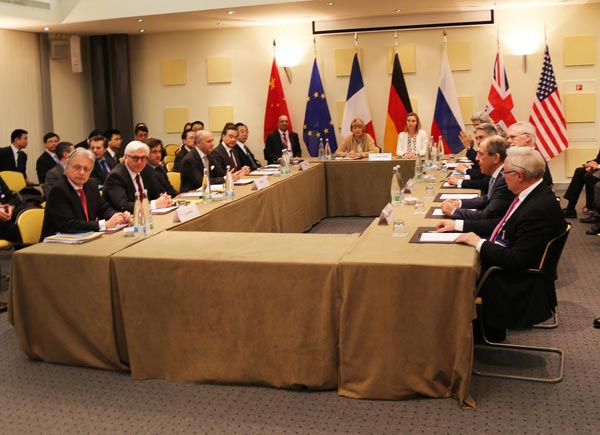 The general view of the plenary session on Iran's potential nuclear framework deal in Lausanne, Switzerland, on March 29, 2015. Foreign ministers from major world powers on Sunday night kicked off a plenary session to further bridge gaps on Iran's potential nuclear framework deal. [Photo/Xinhua]
After eight days of marathon talks, Iran and the P5+1 world powers have hammered out a milestone agreement to address the Iranian nuclear issue. A framework nuclear deal was inked between the two sides on Thursday, paving the way for a comprehensive accord by June 30 that could put an end to the 12-year-old standoff between Teheran and the West.
The hard-won agreement, reached two days after the deadline, in Lausanne, Switzerland, underscores the involved parties' strong political will, diplomatic flexibility and pragmatism in breaking the impasse.
Since the Nuclear Non-Proliferation Treaty took effect in 1970, the international community has made painstaking efforts to reduce the risks of nuclear proliferation. By any standards, the framework nuclear deal is historical as it marks a significant step in building a world free of nuclear weapons.
At the same time, the deal, which focuses on the duration and size of Iran's uranium enrichment, the pace at which the sanctions on Iran are lifted, the limits to Teheran's nuclear research and development, will help ease the tensions between the Islamic country and the West and thus contribute to peace and stability in the Middle East.
The breakthrough in the Iranian nuclear issue sends a strong message to the world that negotiations and dialogues are the way to resolve major crises peacefully.
How the international community has achieved progress in resolving the issue should shed light on other issues, particularly the denuclearization of the Korean Peninsula.
As Chinese Foreign Minister Wang Yi has said, it is necessary to "maintain composure and meet each other halfway" so as to prevent failure at the last moment. The rounds of negotiations in the past years have been a process of learning to accommodate the concerns of others and to be constructive and patient.
Such experience will prove valuable in the future when the world community sets out to address other seemingly intractable issues.
Due to the long-time distrust between Teheran and the West, many hard tasks and challenges still lie ahead. Given the ambiguity in some disputed issues, Teheran and Washington may have different interpretations on the framework agreement. So maintaining composure is still essential for the involved parties if they are to finalize a comprehensive agreement on Iran's nuclear program three months from now.
It is hoped the parties involved can shore up their sense of responsibility and seize the historic opportunity so that a final deal could be secured on schedule.