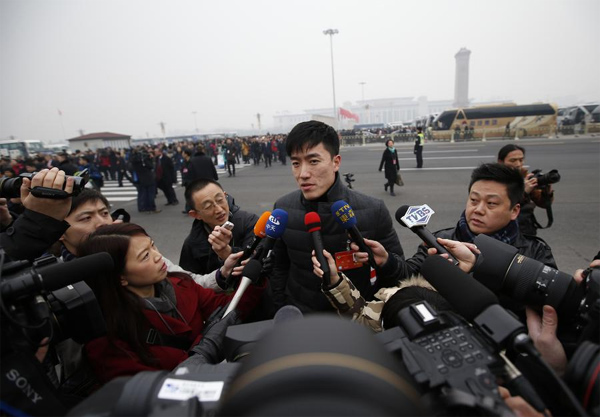 Chinese hurdler Liu Xiang, a delegate of the Chinese People's Political Consultative Conference (CPPCC), is surrounded by journalists as he arrives at the Great Hall of the People to attend the opening of CPPCC in Beijing, in this March 3, 2014 file photo. [Photo/Agencies]
BEIJING - China's Olympic 110m hurdles gold medallist and former world record holder Liu Xiang is to announce his retirement on Tuesday, April 7. Why Liu Xiang decides to retire now, who actually has not competed since his withdrawal from the London Olympics.
It's already over 900 days since Liu Xiang pulled out of the London Games 110m hurdles. No fans believe he will return to action again as he is 32 years old and is away from races so long, but what makes this much anticipated retirement prolonged?
On February, his coach Sun Haiping said: "Liu Xiang has his first try on wearing track shoes (since London Olympics) on December last year, but his Archilles tendon reacted negatively and we have to give up (seeking return)."
"We will see what his physical condition will be when the climate turns warm. At that time, I think we have to make the final decision (to be back or to retire)," added Sun, implying the consideration of Liu's retirement.
According to Liu Xiang's team doctor, Liu Xiang can manage only 13.50 seconds if he returns, which can not guarantee his qualification for top races.
It's time to announce retirement also because it's time for a batch of Liu Xiang's commercial sponsorships expire.
Liu Xiang has a total of 17 sponsor contracts at the same time when he's in his career peak after winning the 110m hurdles Olympic champion at Athens 2004. The accumulative value from those sponsors is estimated worthy of 1 billion yuan RMB (160 million dollars). As long as these sponsors last, Liu Xiang would rather to stay on as an active athlete than a retiree.
The retirement date selection even comes for a purpose. A sponsor for Liu Xiang has bought a whole page on an influential sports printed media for promotion on April 8. In this sponsor's scheme, the commercial impact imaged Liu Xiang would be a big hit on April 8 if Liu Xiang gives retiring announcement on April 7.
Liu became China's first male Olympic champion in athletics when he won the 110m hurdles at the 2004 Games, equalling Briton Colin Jackson's world record of 12.91 seconds. Three years later he won a world championship gold in Osaka, Japan.
Liu bettered the world record to 12.88 seconds in Lausanne, Switzerland in July 2006. Aries Merritt of the United States is current world record holder in 12.80.
At the 2008 Beijing Games, Liu limped off in a first-round heat with an aggravated Achilles tendon injury following another runner's false start.
Four year later at London Olympics, Liu Xiang pulled out the competition again for a similar claimed reason.