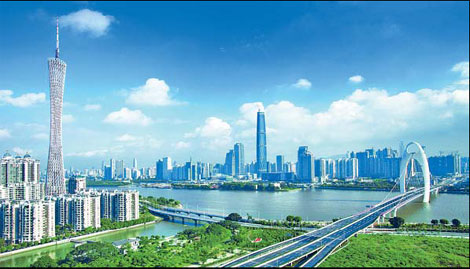 Guangzhou is a famed global business center in South China. 
Cantonese people are renowned for embracing new ideas and trying new things. In the early stages of China's reform and opening-up in the 1980s people in Guangdong, South China were said to have a slogan: "when a traffic light turns red, take a detour".
They don't want to waste time waiting around. Instead, they explore new ways to accomplish goals.
The Cantonese have long been breaking outdated rules, experimenting with new things and creating miracles.
Last year, Guangdong's gross domestic product hit more than 6.779 trillion yuan or in excess of $1 trillion, topping all other provinces, autonomous regions and municipalities
In his government work report to the 12th National People's Congress earlier this month, Premier Li Keqiang described "chuangke" or "makers" as "coming thick and fast." "Chuangke" are a group of young entrepreneurs setting up businesses with fresh ideas, knowledge and technology.
Guangdong, where there is never a lack of entrepreneurship, acts fast. The provincial government earlier this month announced a plan to set aside 2.5 billion yuan to support and subsidize start-up businesses and "makers" in the coming four years. The money will be used to support training and further development, with outstanding venture projects able to receive a maximum 200,000 yuan.
Zhongshan, hometown of Dr. Sun Yet-sen and a city of 3 million known for its manufacturing industry in the Pearl River Delta region, appears even more ambitious, establishing a 10 billion yuan fund to support the development of its newly-launched "intelligent education clusters".
The money will be raised between local government, culture and education organizations, financial institutions and leading education and financial enterprises in the province.
According to the Zhongshan government, the "intelligent education clusters" launched on Wednesday will occupy an area of 22,000 square meters and aim to attract more than 20,000 talented people and "makers" over five years.
Annual business revenue from the new businesses and "makers", through development of online education platforms and cultural and creative industry, is expected to eventually reach 50 billion yuan.
Other cities in the Pearl River Delta region including Guangzhou, Shenzhen, Foshan, Dongguan and Zhuhai all have their own plans and budgets for supporting "makers".
The author is China Daily Guangdong Bureau chief.