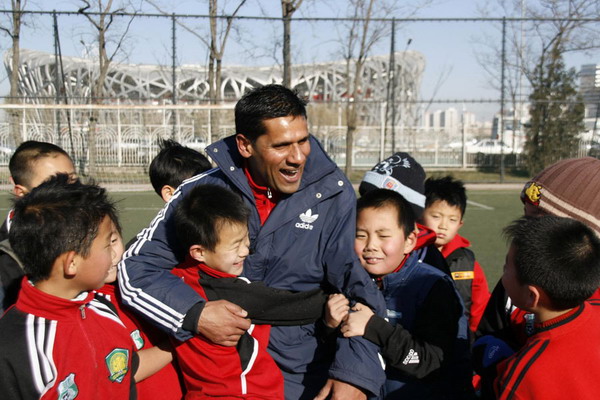 The photo taken in 2008 shows Terry interacting with his students during a training program at the Beijing Olympic Sports Center. [Provided by Terry Singh]
Cultivating football at the grassroots level with qualified coaches training young players is the way to go for China, rather than concentrating on gold medalists. That way, future football stars can be nurtured through education.
Currently, football in Chinese schools is not so popular and children do not aspire to be football stars. Statistics show that from 1990-2000 there were 600,000 youngsters playing football. However, the number dropped from 2000-2005 and now the figure has dropped to 100,000.
The education system in China is geared towards test results, with pupils attending extra classes after school. There is no systematic way of identifying talented players.
During the past decade, I experienced a spiritual journey through exploring Chinese grassroots football education. China has a wonderful rich history with a unique culture and diversity, and the challenges of bringing football to the middle kingdom starts with planting the seeds of football culture through grassroots football.
Undoubtedly, more football schools, more football pitches, junior leagues and more funding are needed to make the change. To develop infrastructure coaching and training are incredibly important as well.
Football is not quite part of the Chinese identity, so Chinese football needs to learn from others before it can be successful. This will take many years but the seeds need to be planted first for the legacy to reach the heights of world football and that begins at schools and local clubs.
Therefore, football clubs, football in schools and football associations must develop links to move forward with an ideology of developing the game working on teamwork, being more creative and learning from others with more coaching programs from FIFA and AFC.
All in all, having grassroots football education as a number one priority can only be good for Chinese football but words are easy while taking action is harder. Perhaps when we assess the state of football in China in 10 years' time, we will see that education is the source of Chinese football and the journey was long but we tackled the challenges and reaped the rewards.
The author Terry Singh is an experienced pioneering football coach from Britain and has been a professional coach for twenty years. He worked as football educator and language teacher at Beijing Sports University and middle schools in China during 2004-2014. You can contact the author at terry_singh@126.com