Medical insurance to cover serious diseases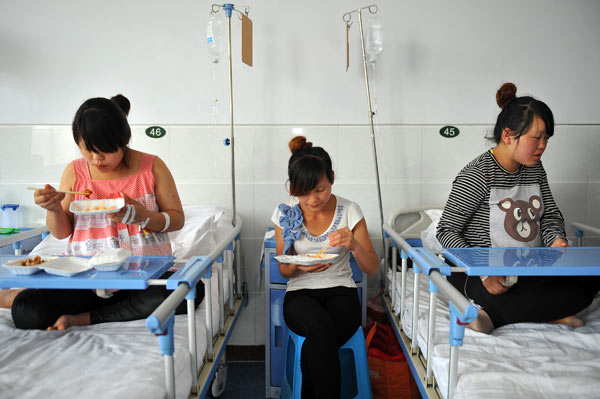 Pregnant women eat lunch at a county hospital in Fugu county, Shaanxi province. Basic medical insurance covered more than 95 percent of the Chinese population in 2011, forming the largest basic medical insurance network in the world. LIU XIAO / XINHUA
Hu Xiaoyi, vice-minister of Human Resources and Social Security, recently told reporters that the ministry will fully introduce nationwide social medical insurance for serious diseases within the year. Comments:
Public opinion tends to welcome every move that extends the social security net. Actually, with the social security system covering a high percentage of medical costs, patients will be insensitive to prices and choose expensive treatments that might be unnecessary. This might increase the cost of the social security system and bring huge losses that could lead to its collapse. Moves are needed to prevent this.
Feng Jin, a professor of economics at Fudan University, March 18
At present, it is counties and cities that shoulder the burden of social medical insurance. With the insurance covering serious diseases, their revenues might be insufficient to cover the costs. We call for the authorities to design provincial even national mechanisms to cover the additional costs.
cjn.cn, March 18
It is a good move to include serious diseases in the social medical insurance, but considering the currently high medical costs, the benefit might be divided among pharmaceutical companies and PR companies. A total reform of the medical industry is needed to lower the costs and create a more reasonable pricing mechanism for the industry. Only with costs under control will this new, welcome move be sustainable.
gmw.cn, March 13
Rare diseases actually cost much more to treat than general serious diseases - millions of yuan are nothing for their treatment - yet patients with rare diseases get hardly any help without fund-raising activities such as the ice bucket challenge. Will the social medical security consider including rare diseases, too, to save more lives?
Huang Rufang, director of Chinese Organization for Rare Disorders, March 15