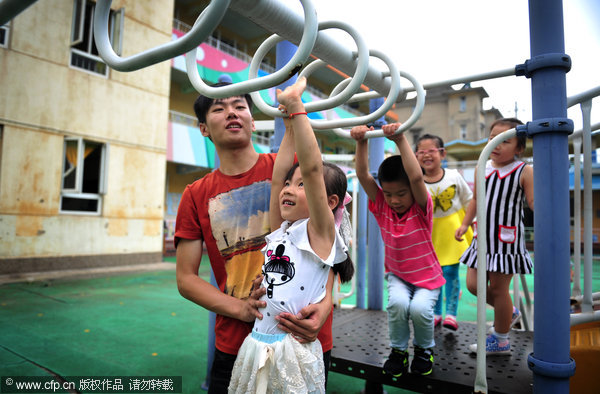 A kindergarten teacher assists the kids in outdoor activities. [Photo/IC]
In the next 20 days or so, Beijing will launch circuit inspections of all kindergartens in the capital, with a focus on whether preschool children are being taught primary school lessons, the municipal education commission announced on Tuesday. Those kindergartens teaching primary school lessons will be downgraded in accordance with the relevant regulations. Comments:
Forcing preschool kids to learn lessons designed for primary school pupils is likely to reduce their interest in studying and thus their personal development. It calls for not only administrative supervision but also advanced educational ideas for kindergartens and parents in a bid to end the appeal of "proactive" promotion. In other words, such ill-considered pre-teaching can only be abandoned when all parties involved reach a consensus on proper teaching methods.
Feng Huiyan, former head of Beijing No 1 Kindergarten, March 18
The prime objective of a kindergarten should be nurturing children's proper behavior and their better understanding of the world through games and other educational activities. Beijing has been consistent in prohibiting pre-teaching hidden under different cloaks.
Fu Zhifeng, deputy director of the Beijing Municipal Education Commission, March 17
Controversial and distressing as it is, such pre-teaching is welcomed by many parents who fear that their kids will not catch up with their classmates in primary school. To persuade them to give up this perception, the knowledge transition from preschool to primary education should be smoother.
rednet.com.cn, Jan 5