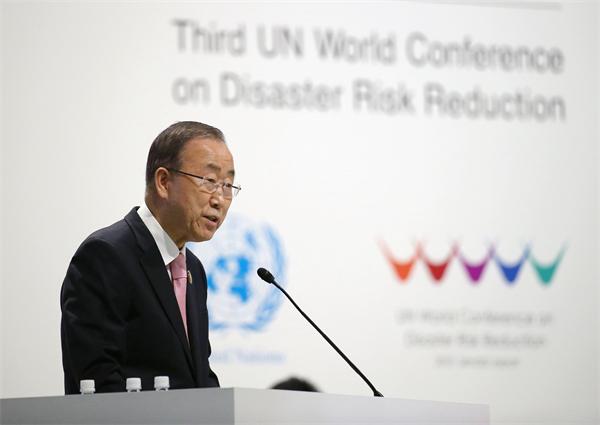 United Nations Secretary-General Ban Ki-Moon delivers a speech during an opening ceremony of the third United Nations World Conference on Disaster Risk Reduction (WCDRR) in Sendai, northern Japan, March 14, 2015. [Photo/Agencies]
Global leaders meeting in Sendai, Japan, from March 14 to 18 have possibly the greatest opportunity to build the infrastructure and other defenses the world needs to withstand the worst ravages of typhoons, earthquakes, droughts and other disasters.
Between 2005 and 2014, disasters have claimed some 403,000 lives in Asia alone, while the losses have totaled $436 billion, or $120 million per day. Climate change means disasters will become more frequent and more intense without action now to better prepare ourselves.
Such disasters, which wipe out homes, farmlands and jobs, hit the poorest of the region particularly hard since they often live in flood-prone coastal areas or river plains. With little or no financial cushion to fall back on, it can take some families a decade or more to recover.
Despite the alarming statistics, the past decade has seen significant progress on the back of commitments made in 2005. Early warning systems have improved because of better forecasting, information dissemination and evacuation capabilities. Thanks to such preparations, a powerful cyclone that struck densely populated areas along India's east coast in 2013 resulted in only 47 fatalities despite affecting 13.2 million people.
Scientific tools such as satellites, remote sensing technologies and advances in disaster modeling have also opened up huge opportunities for better management of disaster risk through supporting measures such as risk-sensitive land use planning, enhanced infrastructure design and sustainable disaster risk transfer solutions. "Building back better" has become a new mantra. Governments and development partners now recognize that disaster recovery and reconstruction efforts must integrate measures to strengthen resilience to future natural hazards.
But on other fronts, progress has been more disappointing. In many Asian countries, enhanced disaster risk information and disaster risk management legislation have not yet translated into significant action on the ground to strengthen resilience. Fiscal management of disaster risk remains weak in developing Asia. Less than 5 percent of disaster losses are insured compared to 40 percent in developed countries, while use of capital market instruments to offset risk is rare.