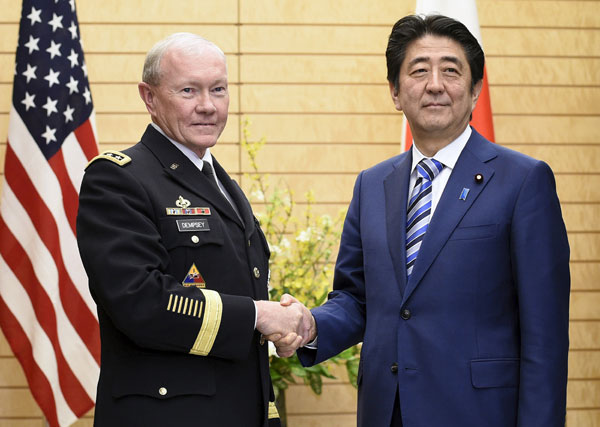 US Army General Martin Dempsey (L), chairman of the Joint Chiefs of Staff, shakes hands with Japan's Prime Minister Shinzo Abe at the start of their talks at Abe's official residence in Tokyo March 25, 2015.[Photo/Agencies]
Japanese Prime Minister Shinzo Abe has been invited to address a joint session of US Congress on April 29 during his eight-day visit to the United States. The right-wing politician will be the first Japanese prime minister to do so.
The invitation, extended by House Speaker John Boehner on March 26, said "his address will provide an opportunity for the American people to hear from one of our closest allies about ways we can expand our cooperation on economic and security priorities".
Missing was any mention of Abe using the opportunity to clarify his highly controversial views on history, as the world and the United Nations prepare to observe the 70th anniversary of the end of World War II later this year. Abe's revisionist views on history have angered many in China, the Democratic People's Republic of Korea, the Republic of Korea, and other Asian countries that suffered the brutality of Japanese militarism before and during WWII.
Chinese Foreign Minister Wang Yi has urged Japan to face history squarely while ROK Foreign Minister Yun Byung-se has said Japan will risk "severe damage" to its leadership if it misses important opportunities on the horizon to own up to its war crimes. Yun was referring to Abe's scheduled address to the US Congress and a declaration he is expected to make on WWII in August.
Abe has made many controversial remarks. He has questioned whether WWII constituted aggression on the part of Japan and denied that the Japanese military was responsible for the "comfort women" - Asian women forced into sexual slavery by the Imperial Japanese Army.
Not just Chinese and Koreans are closely watching Abe. Writing last week to the Veterans' Committees of both houses of the US Congress, Jan Thompson, president of the American Defenders of Bataan and Corregidor Memorial Society, which represents surviving US prisoners of the Japanese army during WWII, said that past statements by Abe rejecting the verdicts of the Tokyo War Crimes Tribunal that served as the foundation of the 1951 San Francisco Peace Treaty with Japan "trouble us".