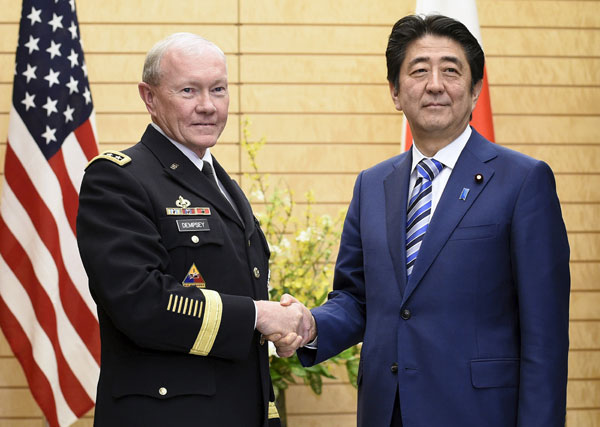 US Army General Martin Dempsey (L), chairman of the Joint Chiefs of Staff, shakes hands with Japan's Prime Minister Shinzo Abe at the start of their talks at Abe's official residence in Tokyo March 25, 2015.[Photo/Agencies]
In October 2001 Shinzo Abe, then deputy chief cabinet secretary, accompanied Japan's Prime Minister Junichiro Koizumi on a visit to the Lugou (Marco Polo) Bridge and the Memorial Hall of the War of Resistance Against Japanese Aggression. Koizumi said the exhibits made him feel again the "horrors of war" and offered "heartfelt apology and condolences" to the Chinese victims of Japan's wartime aggression.
Now that he is Japan's prime minister, Abe has been offered the chance to revisit the bridge near Beijing where Japanese forces attacked Chinese troops in 1937, heralding the beginning of its invasion of China, as China has invited the leaders of relevant countries - Abe included - to the ceremony marking the 70th anniversary of the end of the war (1937-1945) on Sept 3.
However, Japan's daily Yomiuri Shimbun has reported that Abe will not accept Beijing's invitation. And he will not attend a celebration in Moscow on May 9, according to the Sankei Shimbun.
Conservative Japanese nationalists still take Japan's defeat as a humiliation too hard to swallow, and deny that Japan invaded other Asian countries.
In early 2013 Abe said there is no clearly established definition of aggression. At the government-sponsored memorial service for the war dead on Aug 15 in the past two years, Abe has made no reference to Japan's responsibility for the suffering it inflicted on Asian nations or any expressions of condolence.
Advisers assigned to submit a report of suggestions for Abe's statement on the 70th anniversary of the end of World War II, are divided over the use of the word "aggression" in Abe's remarks.
At the discussions on March 13, Shinichi Kitaoka, acting chairman of the panel and president of the International University of Japan, said the displacement of European powers was an unintended consequence of Tokyo's invasion of China and other nations and Japan caused many casualties in Asia in its reckless warring.