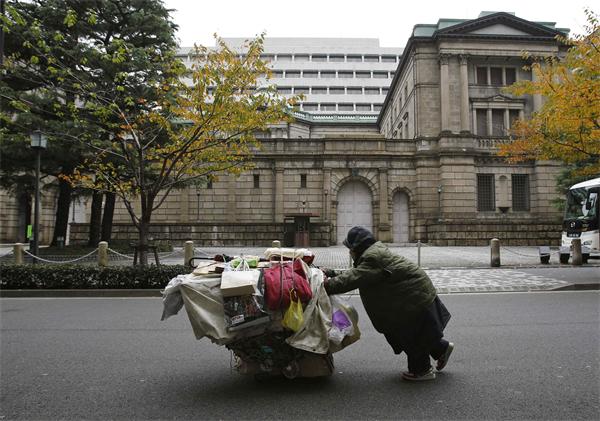 A man pushes a cart loaded with his belongings outside the Bank of Japan (BOJ) headquarters in Tokyo. [Photo/Agencies]
Is Japan's economy taking a turn for the better? The Nikkei, Japan's leading business daily, recommends keeping an eye on women's hairstyles and eyebrows for an answer.
The newspaper believes that, among many predictors of economic performance, the two women's style trends are touchstones in Japan.
Japanese women tend to wear their hair long and have thick eyebrows when Japan's economy is doing well. But they cut their hair shorter and have thin eyebrows when there is a slump, the daily reported, citing a survey conducted by Japanese cosmetics company Kao Corp.
Kao has conducted regular surveys of 1,000 women on the streets of Tokyo and Osaka since 1987. Until the early 1990s, when Japan's economic bubble burst, 60 percent of women in their 20s kept their hair long. During the 1990s economic slump, short hair - defined as above the collarbone - became the dominant hairstyle for Japanese women. But since 2002 when the economy started to expand, long hair had regained some popularity, although the trend was interrupted by the tsunami and earthquake in 2011.
As for this year, some Japanese beauty experts pointed to expectations for a trend towards long hairstyles, thick eyebrows and bright lipsticks, mirroring the view of some analysts that Japan's economy is on the way to a moderate recovery.
The Paris-based Organization for Economic Cooperation and Development raised Japan's projected growth rate on Wednesday to 1 percent for this year and 1.4 percent in 2016. The group's prediction in November put Japan's growth rate at 0.8 percent in 2015.
The OECD listed crude Japanese government stimulus programs and the Bank of Japan's quantitative easing as factors contributing to the upturn.