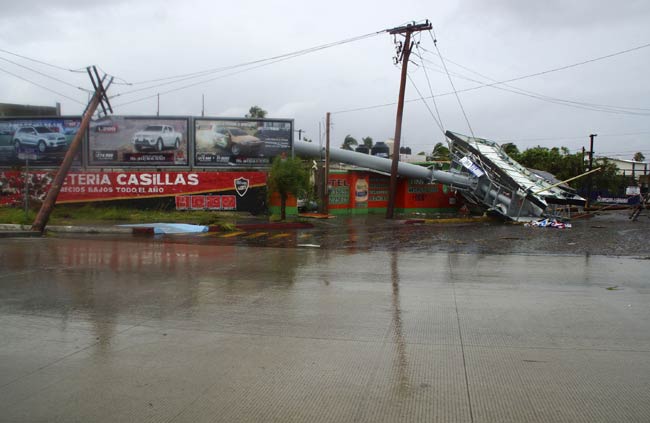 Power lines and debris are knocked over on a street after Hurricane Odile hit La Paz, in Baja California, September 15, 2014. [Photo/Agencies]
CABO SAN LUCAS - Hurricane Odile ground its way up Mexico's Baja California peninsula on Monday, gradually losing strength after injuring dozens of people, forcing the evacuation of thousands and smashing shops open to looters in the popular tourist area.
Fierce winds felled trees, buffeting homes and businesses, as one of the worst storms ever to hit the luxury retreats of Los Cabos battered Mexico's northwestern coast with heavy rains.
Odile has weakened from a Category 4 to Category 1 hurricane since Sunday, but the US National Hurricane Center (NHC) said it would likely cause life-threatening flooding and mudslides on the northwestern coast in the next day or two.
The storm, with sustained winds of 80 miles per hour (130 km per hour), knocked out San Jose del Cabo's international airport. It was unclear when flights might restart.
"We're going to need about two weeks to clean this up, these are some serious losses," said Gerardo Rodas, 50, owner of a small hotel in the town of Loreto on the eastern flank of the peninsula by the shores of the Gulf of California.
Around 135 people required hospital treatment due to Odile, most for minor injuries, said Luis Felipe Puente, head of national emergency services. No deaths were reported.
By 2 p.m. PDT (2100 GMT), Odile was 45 miles (72 km) southwest of Loreto. The storm was moving northwest at 13 mph (21 km/h) and was likely to turn north in coming days, the NHC said.
Odile tore down power lines, water tanks, air conditioning units and smashed storefronts across Cabo San Lucas, sparking looting.
Pharmacies, electronics shops and convenience stores were among businesses hit by looters before police restored order on streets strewn with shattered glass from broken windows, said local shop worker Cristina Osuna, 31.
Tourists in shelters or hiding in bathtubs in their rooms posted photos overnight on social media showing windows barricaded with furniture after they were blown out.
Many hotels suffered flooding.
"It was awful," said shop worker Osuna. "Nobody slept last night because water was coming in and we had to get it out."
THOUSANDS EVACUATED
At least 26,000 foreign tourists and 4,000 Mexicans were estimated to be in the region, officials said. Thousands of people were evacuated from areas at risk of flooding.
The NHC said Odile was expected to slow as it pushed northwest along the desert peninsula and forecast the storm would weaken steadily over the next two days.
Some experts said it was the strongest hurricane to hit the tip of the peninsula since the advent of satellite data.
Ahead of the storm's approach, people in Cabo San Lucas rushed to board up windows, clear beach furniture and remove fishing boats and yachts from the water and into dry docks.
Many beaches in Mexico were packed with tourists during the weekend ahead of Tuesday's Independence Day holiday, but the resorts of Los Cabos are in low season and mostly visited by Americans.
There are no major oil installations in the area.