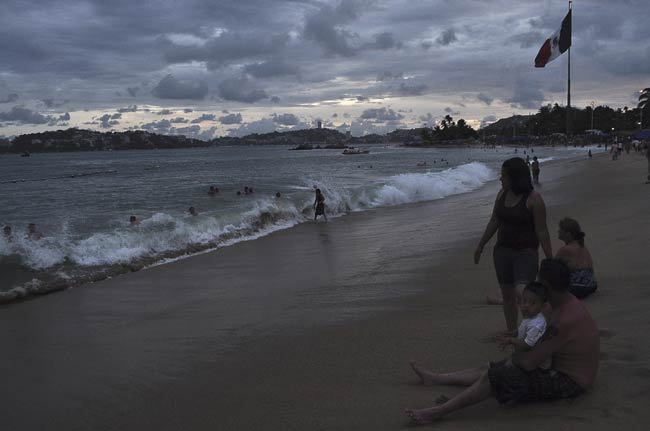 People spend time at the beach in Acapulco, as Hurricane Odile churns far off shore September 14, 2014. The Mexican government declared a hurricane warning for southern Baja and a tropical storm warning for parts of the Pacific coast. [Photo/Agencies]
CABO SAN LUCAS - Hurricane Odile barreled into the Mexican beach Mecca of Baja California early on Monday, lashing luxury resorts and ripping trees from their roots as tens of thousands of tourists hunkered down in shelters.
Winds of up to 120 miles per hour (195 km/h) blew away boards nailed over windows and tore signposts out of the ground, as one of the worst recorded storms to slam the region hammered the golden sand beaches of the popular resort of Los Cabos.
Emergency officials feared the storm could unleash deadly flash floods as it dumped heavy rains over the southern tip of the mountainous desert peninsula.
Tourists stranded in shelters or hiding in the bathtubs of their rooms posted photos on social media showing windows barricaded with furniture that were blown in by the gusts.
"This is really bad. My ears are about to explode by the pressure and I have an inch of water in my kitchen/living room," said Sarah McKinney on her Twitter account.
Another woman posted a video on the Web showing workmen erecting sheets of chipboard and boarded-up windows shaking. Dozens of people sat huddled with pillows in the middle of a large room.
"We've moved downstairs. These windows didn't seem to hold hurricane #Odile. I'm sweating like hell. Scary sound of howling wind," Alba Mora Roca said on her Twitter feed.
"Sounds of glass breaking. I'm in a room with a nice couple of African American pastors from Chicago. No windows. Thanks God there's power!"
Reuters was not immediately able to contact either woman.
"NO WORDS FOR THIS"
At least 26,000 foreign tourists and 4,000 Mexicans were in the region, according to Mexican officials, while emergency workers and military personal evacuated thousands of people from areas at risk of flooding.
Odile lost some strength as it neared Baja on Sunday evening and the center of the storm was expected to move near or over the peninsula through Tuesday as it starts to weaken, the US National Hurricane Center said.
Some storm experts said it was the strongest hurricane to hit the southern tip of the peninsula since the advent of satellite data.
"We haven't seen one get so close and with the possibility of impact, and of such a nature," said Wenceslao Petit, head of emergency services in Los Cabos. "There aren't words for this."
Ahead of the storm's approach, people in Cabo San Lucas had rushed to board up windows, clear beach furniture and remove fishing boats and yachts from the water into dry docks.
"If it doesn't lose intensity, this is going to do some damage," said Rosalio Salas, 59, who works at Picante sport fishing charters in Cabo San Lucas.
While other beaches in Mexico are packed with tourists during the long weekend to Tuesday's Independence Day holiday, the resorts of Los Cabos are mostly visited by Americans and are in their low season.
Luis Puente, the head of Mexico's civil protection agency, told a news conference that 164 shelters had been readied with a capacity for 30,000 people. There are no major oil installations in the area.