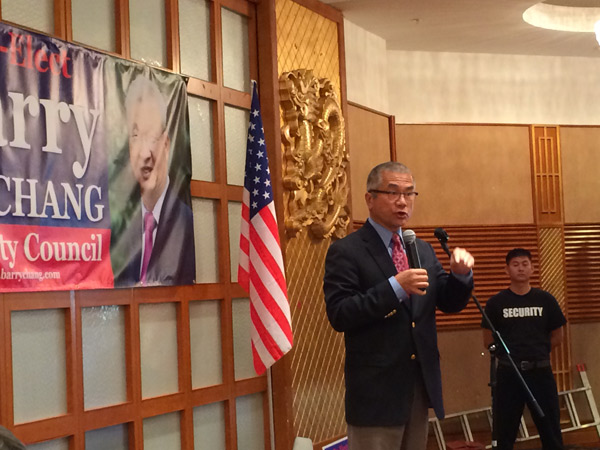 Gary Locke, former US ambassador to China, talks to about 400 attendees in the re-election kickoff fundraising dinner for the incumbent Cupertino City Council member Barry Chang on Sept 7 in Cupertino. Locke encouraged the young generation of Asian Americans to consider a career in US government.[Chang Jun/China Daily]
With more than 10 Asian Americans running for elected office in the Bay Area this year, Chinese communities should probably put their heads together and figure out the best way to utilize their resources in order to send their best representatives to Sacramento and district posts.
The Asian-American community should also be cultivating a pool of young talent, encouraging them to pursue careers in public service by providing training opportunities to develop their skills for government positions down the road. Otherwise, the political enthusiasm among Chinese Americans this election year may end up being just a short-lived flash in the pan that won't advance the community in any direction at all.
In a re-election campaign kickoff fundraiser on Sept 7 for incumbent Cupertino city council member Barry Chang, featured speaker Gary Locke, the former US ambassador to China (2011-14), several times stressed the importance of the Chinese community preparing future leaders for service in the government sector.
"Looking around, I find many young people in this room," he said to the gathering of more than 400 Chang supporters. "Let's give our young generation a warm round of applause and encourage them to consider a career in government."

Locke serves as an exemplary role model. He was the first Asian American elected governor of a US state, being sworn in as the 21st governor of Washington in 1997, and has ever since inspired the Asian community to get more actively involved in public and civic affairs.
In a heartfelt look back on his own family's journey to the United States, Locke told how his grandfather came to Washington State in the late 1800s doing menial jobs such as sweeping floors, mining and laundry so he could send money back to China to support the family he left behind. In his gubernatorial inauguration speech in 1997, Locke said that it had taken his family 100 years to move just one mile from where his grandfather used to do hard labor to the spot in the capitol where he was taking the oath of office. America is a land of immigrants, Locke said, adding that wave after wave, and generation after generation of immigrants from all over the world have made the United States strong. "We need the constant input of new values, new culture and new ideas, and that's why the Silicon Valley is so strong," he said at the event for Chang last Sunday. The Chinese are part of the immigrant story, Lock said, adding that the Chinese and Asians have helped build and defend this country. "Therefore, we have a responsibility, we actually have a right, a duty to be at the table and make the laws that affect all of us," said Locke. "And that's why we need to encourage our young people to seek careers in politics." According to the new edition of the National Asian Pacific American Political Almanac, more than 4,000 Asian Americans and Pacific Islanders currently hold public office in some 40 US states and territories.
In California alone, Asian Americans have served as five federal representatives, 15 state representatives, more than 90 council members and more than 100 judges.
However, the number of Asian-American politicians from California at the national and state level is minimal compared to the heavy concentration of Asian Americans on the West Coast, said Yibing He, a media critic in San Francisco. "We wouldn't even use up our fingers counting the influential politicians of Asian-American descent," she added.
So far, more than 10 Chinese Americans have stepped forward to run for public office in the coming Nov 4 election. Among them, Peter Kuo is a candidate for California's 10th senate district; Kansen Chu is running for California Assembly District 25. It is very likely we'll have another and one of the strongest Chinese American in State legislature in November; David Chiu is running for San Francisco's 17th district; two-term State Controller John Chiang is standing for the California State Treasurer post; Yan Zhao is aiming for the Saratoga City Council; and Chris Zhang and Kristen Pan Lyn are both running for the Cupertino school board.
Wang Ling-chi, an ethnic studies professor at the University of California, Berkeley, said he has spent more than 40 years trying to reverse the stereotype image of Asian Americans being politically petrified. "We can't just sit back and let other people decide how they are going to treat us," said Wang, adding that Asian Americans need to use their votes to elect good people to represent their interests. Locke said that if people care about schools, education, supporting small businesses and entrepreneurs, economic development, if they care about health care for seniors and the elderly, then "we have to be at the table to help make the laws that affect our community and our future".
Contact the writer at junechang@chinadailyusa.com.