Decades ago, when the Western media covered China, which wasn't often, they focused mostly on the social issues of a developing country. With China's rapid economic growth, which stood at a double-digit rate for some time, Western media have had something else to focus on - the world's No 2 economy.
In a recent gathering called "China Hands Reunion" in New York at the Overseas Press Club of America, some past and current China correspondents for US media agencies shared their experiences covering China's transformation into one of the world's economic superpowers.
Pete Engardio, a former China-based correspondent for Business Week, showcased how China was featured on the magazine's cover over the past few decades. The country's role of becoming a global economic engine, which managed to weather the adverse effects of the 2008 global financial crisis thanks to a $586 billion stimulus package, was more frequently featured in the magazine's cover.
In 1999, China's then Premier Zhu Rongji was on the cover for a story about economic reform. In the 2000s, the magazine focused more on Chinese investment in the overseas market. A cover story in its 2004 edition explored how China was "going global" with Chinese companies investment abroad buying European and American companies.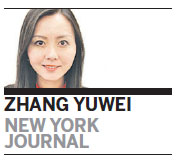 While Chinese firms in many industries still need to catch up with their well-established Western counterparts in terms of building a brand, China has taken the lead in the construction field, said Engardio.
"They started buying some of these other companies in Europe for the great technology," Engardio noted. "This is the Chinese strategy."
In the late 1970s, there were only 39 foreign reporters in China and the number increased to 100 in the early '80s, according to Jaime A. FlorCruz, CNN's Beijing Bureau Chief who has been working in China since 1971.
"Our ranks have expanded to nearly 700 working for 441 news outlets from 59 countries, mostly based in Beijing and Shanghai," FlorCruz wrote in a CNN blog. Covering China for Time magazine between 1982 and 2000 before joining CNN, FlorCruz said many — including the American media — have "underestimated" the country's ability to handle pressure and problems.
But as a vast country of 1.3 billion people in such a big economy, presenting stories on different topics requires some sense of nuance — not just positive or negative.
Stories with nuance, however, don't often get much reader attention, noted Barbara Demick, outgoing Beijing bureau chief of Los Angeles Times.
The economic growth, China's joining the World Trade Organization and an increasing number of global events taking place in China — such as the 2008 Beijing Olympics — have expanded Western coverage of the country.
China's rise — boosted by its economic growth in the past decades — has also been gaining attention from Western pundits. Much debate is on over whether or not China will potentially be a threat to developed economies, the US in particular.
"Are we going to accept China for what it is?" asked Orville Schell, a China expert who leads the Center on US-China Relations at the Asia Society. "Because until that happens, we are not going to resolve many of these problems."
Contact the writer at yuweizhang@chinadailyusa.com.