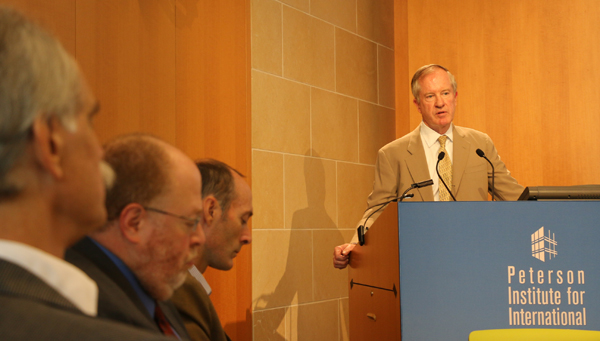 Nicholas Lardy, a senior fellow at the Peterson Institute for International Economics, talks about his new book Markets over Mao: The Rise of Private Business in China, in a seminar at the Peterson Institute in Washington on Sept 10. Chen Weihua / China Daily
The prevalent view about China's economy is that the state sector has been playing an increasingly important or even dominant role. Some even describe the world's second largest economy as state capitalism.
Nicholas Lardy, a senior fellow at the Peterson Institute for International Economics, strongly disagrees.
In his latest book, Markets over Mao: The Rise of Private Business in China, the leading authority on the Chinese economy uses numerous data to argue that China's economic reform process which began in 1978 has already transformed the nation from a state-dominated economy into a predominantly market-driven economy in which private firms have become the major engine of economic growth.
While many would agree with Lardy that market forces now play an ever greater role in resource allocation in China, Lardy's study also finds little support for another often expressed view that President Hu Jintao and Premier Wen Jiabao dramatically increased the role and importance of state-owned firms in the 2003-2013 period.
Lardy believes that China's future growth will be similarly market- rather than state-driven, as he sees in China's new reform guidelines a promise to give market forces a greater say.
Lardy does acknowledge that state dominance in a few sectors, such as finance, is still an issue to be resolved in the next phase of reform. But that does not affect his overall conclusion.
The official data Lardy cited all show that private businesses have become the major source of growth in a wide range of areas, and a sole source of job creation and global trade. The study also finds that private firms have in the past years developed twice as fast as state firms.
The view that private firms don't get access to finance is outdated, according to Lardy. As the study shows, bank lending to private firms is double what it's been to state firms in recent years.
"The popular image of state banks lending overwhelmingly to state companies could not be more misleading," he said.
During a book launch seminar at the Peterson Institute on Sept 10, one fact that Lardy cited loud and clear was not something the audience, many of whom were experts in the field, expected. The number of government workers per thousand residents in China is only a third the level in France and less than half that in the US.
Jin-Yong Cai, a Chinese national who is now executive vice-president and CEO of International Finance Corporation (IFC), described the methodology and data used in Lardy's book as very powerful.
Citing his experience working in the China International Capital Corp, Cai believes it is not the government's policy to create the so-called national champions for state-owned enterprises (SOEs), the intention was rather to solve some of the serious challenges facing those SOEs, which were in bad shape.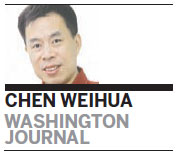 It was all accidental rather than out of a grand plan, Cai said of the rise of some SOEs.
However, Richard McGregor, the Financial Times bureau chief in Washington who has covered Chinese politics and the economy extensively, pointed out that it is extremely hard to define what are private and what are state-owned companies in China. He cited the fact that the largest shareholder of Vanke, China's largest residential real estate developer, is state-owned China Resources.
To many people, Vanke, with its high-profile founder Wang Shi, a private entrepreneur, projects the image of a private company.
McGregor also pointed out that China's state sector is highly concentrated while its private sector is fragmented. But that is an area people like Lardy hope the Chinese government will address in the next round of economic reform, in areas such as finance, telecom and oil and gas fields.
While Lardy based his analysis on economics and relatively little on politics, McGregor said that many Chinese want more involvement by the state sector to tackle all sorts of problems China faces, such as inequality and pollution.
"The next question that might be in China is not if the state is too big, but if the state is too small," he said.
Lardy said he was not sure if the people leaving the seminar would have changed their perceptions, but it would give them a new perspective.
The book, which deals with a subject that no counterpart in China has really written about, has won praise from experts such as former US secretary of treasury Lawrence Summers, now a professor at Harvard University, and Robert Zoellick, former World Bank president and US Trade Representative.
"Markets over Mao turns conventional wisdom on the Chinese economy inside out," Stephen Roach, an economist at the Yale School of Management, said about the book. "Nick Lardy's meticulous empirical analysis dispels the popular notion that a creaky state-directed economy is about to collapse. Instead, he paints a compelling picture of the staying power of China's market-based dynamism."
Contact the writer at chenweihua@chinadailyusa.com.