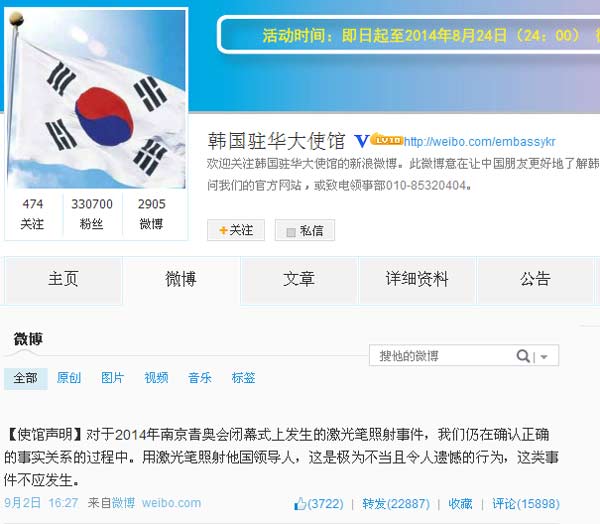 The announcement of the South Korean embassy in Beijing posted on their Sina Weibo official account on Sept 2, 2014. [Photo/chinadaily.com.cn]
South Korean diplomats said Tuesday they were "confirming facts" after one of the country's young athletes was accused of shining a laser pen into the face of Chinese Premier
Li Keqiang
.
"It's extremely improper and regrettable to shine a laser pointer on state leader. This should not have happened," the South Korean Embassay in Beijing posted a statement on its Weibo.
Li was targeted by the laser pen at last Thursday's closing ceremony for the Youth Olympics in Nanjing, Jiangsu province, television images showed.
The beam flickered across his face as he waved to the crowd while taking his seat at the Nanjing Olympic Sports Center Stadium in front of 60,000 spectators.
Chinese netizens blamed a South Korean athlete for the incident, which came at the end of 12 days of competition between 3,700 athletes aged 15 to 18.