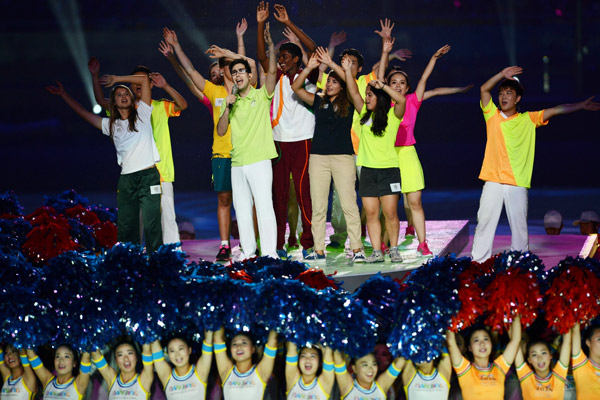 Canadian singer Carlo Aspri (center left) performs with youth athletes at the Nanjing Olympic Sports Center Stadium during the closing ceremony of 2014 Youth Olympic Games in Nanjing, Jiangsu province, on Thursday. [Photo by Wei Xiaohao/China Daily]
Clapping and chanting, more than 60,000 spectators and over 3,000 athletes braved rain as magnificent fireworks lit the sky above the Nanjing Olympic Sports Center Stadium, marking the end of the 13-day 2014 Youth Olympic Games.

For the young athletes from 204 countries and regions, it's only a brief farewell to the euphoria originating from efforts to become better, stronger and faster. In their eyes, the event is a starting line for the true passion of sport and a platform to deepen their comprehension of real competition and friendship.
International Olympic Committee President Thomas Bach made no secret of his praise for the Games as he introduced their climax on Thursday evening.
He called the Games' organization "perfectly flawless" and expressed thanks to the Chinese and Jiangsu governments.
Premier Li Keqiang met the gala's volunteers on Thursday in the host city of Nanjing as he hailed the spirit of service in the economically strong country.
The Youth Olympics flame was going out, but the volunteer spirit will be eternal, Li told a crowd of volunteers of different ages, capacities and nationalities.
China needs progress not only in material terms but also a spiritual pursuit to achieve national development and good living conditions for its people, he said.
Calling volunteers "unsung heroes", the premier clicked the thumbs-up sign on the Youth Olympics volunteer team's micro blog and encouraged them to expand their spirit and moral strength.
The volunteers Li met on Thursday were part of the 20,000 who worked at the 13-day Youth Olympics, which drew 3,800 athletes from 204 countries competing in 28 sports.
More than 92 percent of them were college students based in Nanjing, Jiangsu province, and around 200 were international volunteers from more than 20 countries and regions.
Raqibul Hassan, a 20-year-old Bangladeshi working as a guest service assistant at the Games, said although he is a foreign volunteer he would also like to be a "calling card" for China.
"Whenever I wear the volunteer uniform, I represent both China and Bangladesh," the student at Nanjing University of Aeronautics and Astronautics said in fluent Chinese. "I've made a lot of Chinese friends here and learned more about Chinese culture, even the Chinese traditional and philosophical concept of yin and yang."
The meeting on Thursday was not the first encounter between Chinese leaders and the Youth Olympics volunteers recently.
One month before the curtain was raised on the Games, President Xi Jinping encouraged volunteers to spread Chinese culture, tell Chinese stories and cast a good image of Chinese young people with youthful passion, as if they are "calling cards" of the country.
The Games are not only a sporting event, but also an opportunity for exchanges of feelings and ideas between Chinese young people and their foreign peers, Xi said in correspondence with volunteers in July.
Zhang Zhaohui, an expert at the Beijing Bureau of Sports, said the remarks by Xi and Li were a recognition and encouragement to all volunteer work, not just for major sports events.
Since the Beijing Olympic Games in 2008, volunteers have become more involved in Chinese people's daily lives, said Zhang, citing 40,000 volunteer sports instructors across the capital as an example.
Xia Anning, 59, said she and her husband, Wang Qinghua, were surprised that their volunteering gained attention from friends and the country's leaders.
"We want to continue making a contribution to society with our language skills after retirement," said Xia, who can speak fluent English. "I hope that one day, volunteering becomes such a common thing that people seldom talk about it. At that time, it must be a harmonious society."
The next Summer Youth Olympic Games will be hosted by the city of Buenos Aires, Argentina, in 2018.
zhaoshengnan@chinadaily.com.cn