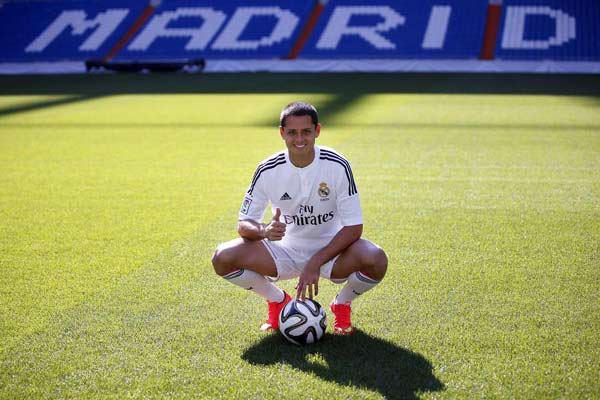 Real Madrid's new player Javier Hernandez poses for the media at Santiago Bernabeu stadium in Madrid, Sept 1, 2014. Real Madrid have moved to broaden their options in attack by agreeing to sign Mexico striker Hernandez, known as "Chicharito", on loan from Manchester United for the 2014-15 season. [Photo/Agencies]
MADRID - Real Madrid signed Javier Hernandez and Valencia acquired Alvaro Negredo on the final day of the transfer market in Spain, with both strikers arriving on loan deals with purchase options Monday.
Hernandez left Manchester United to help reinforce the European champion's attack after its recent stumbles to start the season.
Valencia concluded negotiations with Manchester City for Negredo on the stroke of midnight local time when the summer window came to a close.
Valencia says Negredo's loan deal includes an "obligatory" purchase clause.
Otherwise, it was a relatively quiet day for the other 18 teams in Spain's topflight division.
Barcelona held off after an active offseason highlighted by the signing of Luis Suarez and facing a yearlong ban on signing players after FIFA deemed it had broken rules regarding the acquisitions of players for its youth teams. Barcelona won't be able to sign players until January 2016.
Defending champion Atletico Madrid completed the signing of Alessio Cerci from Torino announced on Saturday after the Italian forward passed a medical and put a pen to a three-year contract.
Mainly a substitute at United, Hernandez will likely have a similar role in Madrid.
"I have come to help," Hernandez said at his presentation that was rushed through following a medical exam. "I hope I can do my share so that this club continues to be successful."
The 26-year-old Hernandez, known by his nickname "Chicharito," played for Manchester for the past four seasons, scoring 59 goals in 154 appearances to help win two Premier league titles.
Last season, Hernandez only scored four goals in the English league, when United went from champion the year before to a seventh-place finish. He attributed his dip to the team's overall slump.
"Last season was bad for everyone on the team, not just for one player," said Hernandez, adding that his new fans shouldn't be worried because "I will be a professional on and off the pitch and that helps the team win."
He joins Karim Benzema at the top end of Madrid's attack which also features Ballon d'Or winner Cristiano Ronaldo, the World Cup's top scorer James Rodriguez and Gareth Bale, the world's most expensive player.