Colombia's World Cup superstar, James Rodriguez, was unveiled as Real Madrid's latest headline signing in front of tens of thousands of boisterous fans at Santiago Bernabeu on Tuesday.
Rodriguez, the top scorer at the World Cup in Brazil, has moved to the European champion from Monaco on a six-year contract.
Spanish media said Real paid about $108 million for the 23-year-old playmaker, which if correct would make him the fifth most expensive player in history after Gareth Bale, Cristiano Ronaldo, Neymar and Luis Suarez.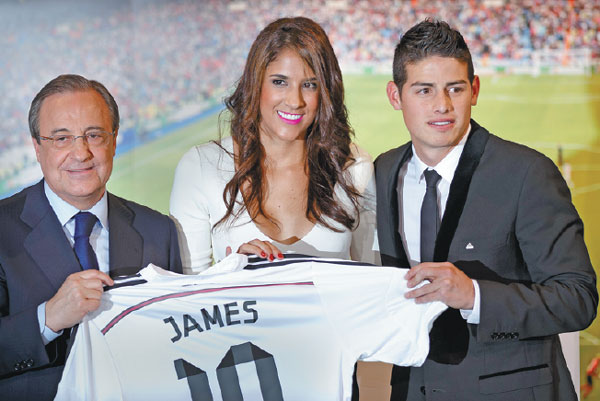 Real Madrid president Florentino Perez (left) and newly-signed striker James Rodriguez, accompanied by his wife, Daniela Ospina, pose for photographers holding his shirt at Santiago Bernabeu on Tuesday. Rodriguez agreed to a six-year contract with the club. Daniel Ochoa de Olza / Associated Press
"It's a lot of pressure to be here but I'm ready to take it on," said Colombia's poster boy, looking relaxed and smiling and sporting Real's No 10 shirt - last worn by Mesut Ozil.
"My goal here is to always win; I don't like losing. I'm thrilled to be here, it's a dream come true, I hope to give a lot of pleasure," he told a huge crowd estimated at about 40,000, including a significant number of Colombians.
Neither club confirmed the size of the transfer, but Monaco described it as "one of the biggest transfers in football history".
Monaco paid $60 million when Rodriguez signed from Portugal's FC Porto 15 months ago.
Monaco said in a statement it had not wanted to sell Rodriguez but that it was "proud to have carried out one of the biggest transfers in football history".
Rodriguez's six goals for his country at the World Cup won him the Golden Boot award. A spectacular volley against Uruguay went down as one of the best goals in World Cup history.
He is Real's second major signing in five days as it prepares for a new season of confrontation against archrival Barcelona. German midfielder Toni Kroos moved from Bayern Munich on Thursday, just days after the 24-year-old helped Germany win the World Cup.
Real has also been linked with a move for Keylor Navas, the goalkeeper whose heroics helped Costa Rica reach the World Cup quarterfinals. Navas plays for Levante in the Spanish first division.
Rodriguez had only been at Monaco for one year but his sizzling performance at the World Cup made him the No 1 target for many European clubs.
In a FIFA.com poll released on Monday, his volley against Uruguay was declared goal of the World Cup by more than four million voters.
Rodriguez went to the World Cup as Colombia's second striker, but Radamel Falcao was injured in January, leaving the starring role to his Monaco teammate as Colombia reached the last 16 for the first time.
Uruguay coach Oscar Tabarez compared Rodriguez to Argentine legends Diego Maradona and Lionel Messi, the "players who succeed in doing things because they are special".
The Colombian has made it clear for a long time that it was the Spanish league that he wanted to get to.
"The Spanish league is a league that I've always watched - it's different from the English League, which is very physical," he told FIFA.com in an interview in November.
"The game in Spain is more about technique, and about getting more touches on the ball. That's why I like it so much."
Rodriguez started his career at 16 for Colombian second division side Envigado FC and built up an immediate reputation.
In 2008, he was signed by Argentine side Atletico Banfield where he became known as "James Bond of Banfield" after scoring an extraordinary lob in February 2010.
He then moved to FC Porto in Portugal, where more spectacular goals brought three league titles in three seasons. Monaco bought him in May 2013.
(China Daily 07/24/2014 page24)