McIlroy joins Nicklaus and Tiger in elite major-winning group
For those in the know, from his earliest years in Holywood outside Belfast, it was just a matter of time before Rory McIlroy joined the ranks of golfing greats like Tiger Woods and Jack Nicklaus.
Like Woods, he was a child prodigy. Young McIlroy hit a 40-yard drive at the age of two and entertained visitors by repeatedly chipping balls from the end of his parents' hallway into the drum of their washing machine. He was featured on TV.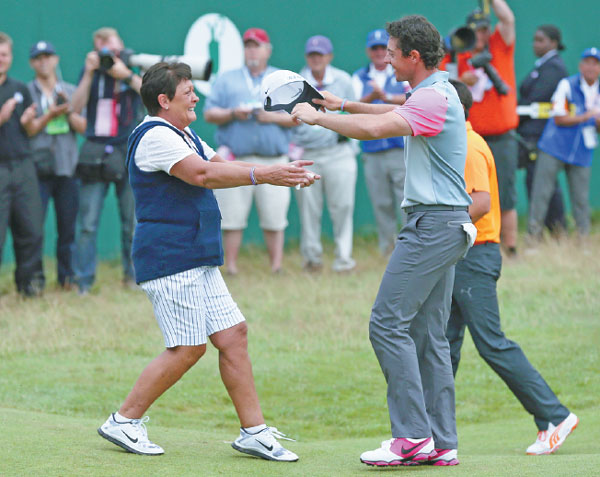 Rory McIlroy celebrates winning the British Open with his mother, Rosie, at Royal Liverpool, Hoylake, England, on Sunday. Scott Heppell / Associated Press
McIlroy is the new world No 2 after his dramatic British Open victory on Sunday at Royal Liverpool lifted him six places in the rankings.
Australia's Adam Scott keeps the No 1 spot after finishing in a tie for fifth with countryman Marc Leishman on 12 under, five shots behind the Northern Irishman.
Sweden's Henrik Stenson drops to No 3 while Justin Rose of England is fourth and Spaniard Sergio Garcia climbs from ninth to fifth.
On Sunday at Hoylake, just over the sea from Northern Ireland, that crystal globe like foresight paid dividends as McIlroy romped away to win his first Open Championship.
In so doing he became just the third player in golfing history-after Nicklaus and Woods-to win three of golf's four majors by the age of 25.
And all eyes will now be turned on Augusta National next April and the Masters where McIlroy will have the chance to become just the sixth player to win all four of the majors, alongside Woods, Nicklaus, Gary Player, Ben Hogan and Gene Sarazen.
Leading coach David Leadbetter believes it is just a matter of how many more majors McIlroy will win.
"Rory's a streaky player but if he can find that consistency level over the next few years he's going to win a boatload of these majors. He's only 25. He's got a swing that's going to last and that's why he's a little bit streaky," he said.
Born in the small County Down coastal town of Holywood to an Ulster Catholic family, McIlroy's parents, Gerry and Rosie, quickly recognized he had a natural talent for the game and they sacrificed time and money to help him realize his potential.
The results were immediate and their boy was crowned world junior champion at the age of 10 in San Diego and by the time he was 16 he was ranked the top amateur in the world.
But it was in 2007 that he first exploded onto the international stage with an eye-catching performance as an 18-year-old at the 2007 Carnoustie British Open.
Playing in cold, windy conditions on one of the toughest courses on the Open schedule, the tousel-haired youngster came in with a three-under 68, the only player not to shoot a bogey that day.
He eventually finished tied for 42nd, but won the silver medal rewarding the top amateur and shortly after that he turned pro.
McIlroy quickly made his mark.
Of medium build and not particulartly muscular, McIlroy possessed a purity of swing, allied to a bristling self-confidence that marked him out from the others.
He won his first European Tour event at the Dubai Desert Classic in 2009, which took him to 16th in the world rankings.
Mark O'Meara, who played with him on that occasion was moved to comment: "Ball-striking wise at 19, he's probably better than Tiger was at 19. His technique, I think, is better."