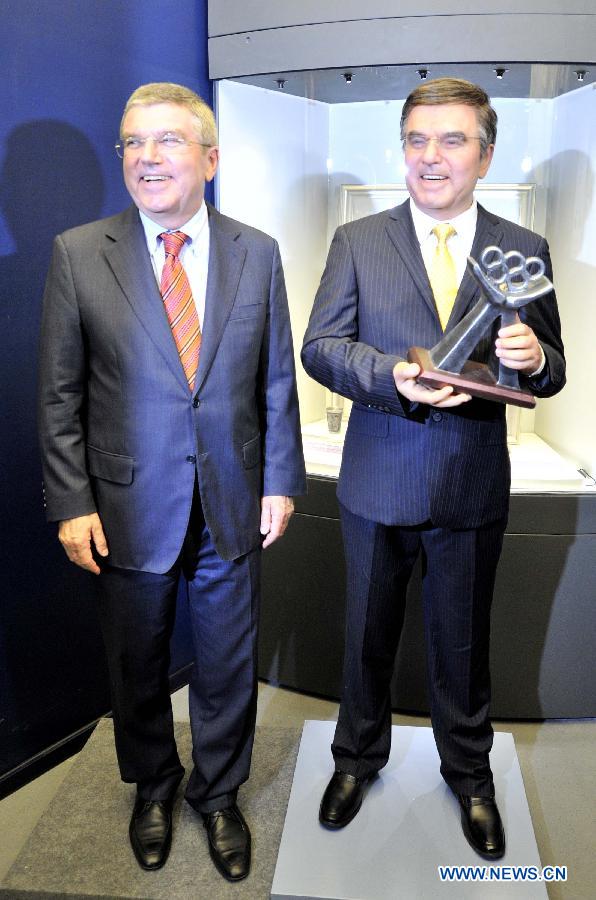 President of the International Olympic Committee Thomas Bach (L) poses with his wax statue after the opening ceremony of the Nanjing Olympic Museum in Nanjing, Aug 17, 2014. Located in the north of the Youth Olympic Village, Nanjing Olympic Museum covers a building area of 7,896 square meters and an exhibition area of 5, 034 square meters. Themed on "Pass on the Century-old Flame in Youthful Nanjing", the exhibition in the museum will show case nearly 600 pieces of objects of all kinds. [Photo/Xinhua]
The Nanjing Olympic Museum is now open. Liu Yandong, Member of the Political Bureau of the CPC Central Committee and Vice-Premier and Thomas Bach, President of the International Olympic Committee (IOC) jointly pressed the button to open the door to the Museum, which is composed of one Preface Hall and five Exhibition Halls.
Together with Jacques Rogge, Honorary President of the IOC, and officials from Jiangsu and Nanjing, they visited the museum and the Youth Olympic Games Art Exhibition.
Photos of generations of Chinese leaders' presence at historic sports events are exhibited in the Preface Hall, while the origin and development of the Olympic Games are introduced in the Exhibition Halls.
Bach and Rogge had pictures taken together with their own wax statues.