Latest round of rumors only adds to Rory's woes
Rory McIlroy's messy breakup with management company Horizon Sports reached a Dublin court on Monday, but speculation his relationship with tennis player Caroline Wozniacki was on the rocks appeared wide of the mark.
Media reports said the two-time major winner had ended his two-year relationship with Wozniacki, but the Danish tennis star dismissed the stories as rumors.
"I'm so tired of the rumors. They occur every time Rory and I are apart a few days or do not write on Twitter," Wozniacki told Danish newspaper Ekstra Bladet.
"There is nothing in it, and from now on I just think that I will keep my private life private.
"It is so annoying that the media and the so-called sources constantly spread the rumors.
"They write just what they want."
Wozniacki, who has slipped to No 9 in the world rankings, said: "All is well" with the relationship.
"I just want to be allowed to live my life off the court without all the speculation," she said.
McIlroy and Wozniacki are one of sport's glamor couples and were frequently seen supporting each other when their hectic playing schedules allowed.
While the Dane moved to squash reports of a breakup, the Daily Telegraph said the 23-year-old was "absolutely devastated" about the breakdown of her relationship with the 2011 US Open and 2012 US PGA champion.
Meanwhile, the legal case and speculation about his high-profile relationship have added to a frustrating year for the young Northern Irishman.
Neither side has explained the reasons for the 24-year-old's decision to part company with Horizon, but media reports said the golfer was unhappy with the commission the Dublin firm was charging for its services.
Horizon said it was disappointed McIlroy had ended a contract that had a number of years left to run.
"Since October 2011 Horizon has achieved exceptional results for Rory in realizing his commercial objectives," the company said in a statement.
"Under Horizon's management Rory has signed some of the most lucrative endorsement contracts in sports history."
McIlroy started the year on top of the world. He was No 1 in the rankings and in January signed a 10-year contract with club manufacturers Nike that, according to media reports, is worth $250 million.
But it has been downhill all the way since then as he slipped to No 6 in the world rankings and failed to win a tournament this season.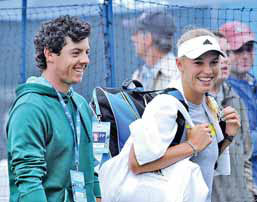 Rory McIlroy and Caroline Wozniacki walk through the crowd after practice at the AEGON International tennis tournament in Eastbourne, England, in June. Glyn Kirk / Agence France-Presse