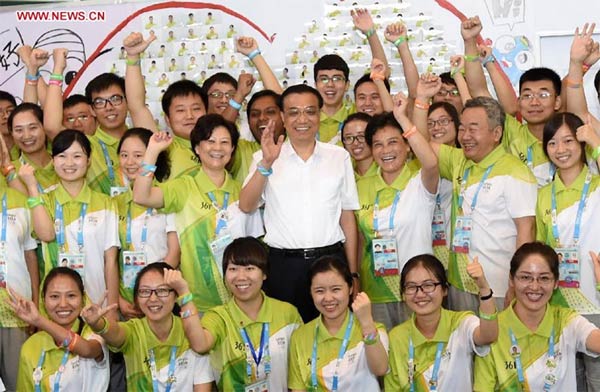 Chinese Premier Li Keqiang poses with volunteers of the second Summer Youth Olympic Games in Nanjing, capital of east China's Jiangsu Province, Aug 28, 2014. Premier Li attended the closing ceremony of the Games Thursday in Nanjing. [Photo/Xinhua]
NANJING, China - Chinese Premier Li Keqiang Thursday gave all thumbs up to the volunteers who served at the Nanjing Youth Olympic Games between Aug 16-28.
The Nanjing Games has recruited a total of 20,000 Games-time volunteers and they were given high praises by International Olympic Committee(IOC) President Thomas Bach and other foreign guests.
Li told volunteers: "The Nanjing Olympic Games will come to a close and the flame will be extinguished today, but the flame that ignited the volunteering spirit in your heart will never be extinguished."
Li had high expectations upon these volunteers by saying: "Hopefully you can pass your volunteering spirit to more people in our society and boost the moral standards of the country in future. "
"China needs not only economic development but also the pursuit of spiritual life, and your hard work at the Games represents the spirit of responsibility and dedication," Li said.
"The volunteers could not win a medal, but the praises are a truly worthy medal for all of you."
Li called all young people of the country to make more contributions to the friendship between the youth of the world and the realisation of the Chinese dream.
The Youth Olympics, a sporting event for the youth of the world,
was proposed by former IOC President Jacques Rogge. Singapore held the inaugural Youth Olympics in 2010.
The 3rd Summer Youth Olympics will be held in Buenos Aires, Argentina in 2018.