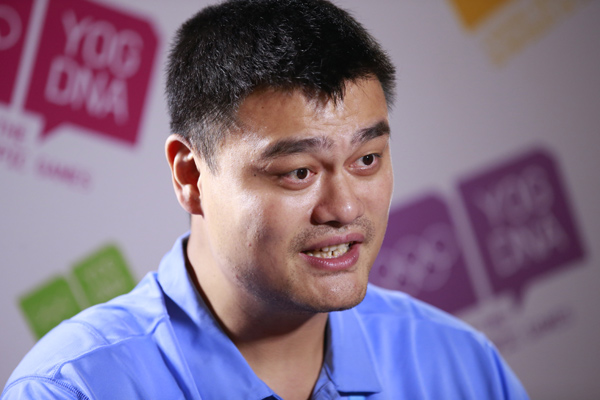 Chinese basketball legend Yao Ming is interviews on the sideline of the ongoing Youth Olympic Games in Nanjing August 26, 2014. 
NANJING -- Chinese basketball legend Yao Ming believes the emphasis of Youth Olympic Games should not be on results and medals.
Instead, the three-time Olympian suggests the focus should be on education and participation.
Yao passionately believes that the Youth Olympic Games must promote interaction between athletes, respect of the competition, each other and themselves - and teach youngsters how to reject drugs.
"I believe in the Youth Games, this is the next generation of athletes, we should [do] away with the results, the records, the medals," Yao said at a session with the International Olympic Committee's (IOC) Young Reporters program.
Yao represented China at the Olympic Games in 2000, 2004 and 2008 and recalled how his first Games made an impact on his life and career.
Yao spoke of seeing an aerial photograph of the opening ceremony at the Sydney Games, in 2000, and realizing he was one small piece of a big puzzle - which is saying something, given his 2.26m frame.
"Everybody is in the stadium and there are about 10,000 people there," he said.
"I think I am a big man and I thought it should be easy to find myself in the picture, but I looked for 20 minutes and could not found myself.
"That moment, there was one thought in my mind, and that is that individuals are small and we should be proud to be small individuals who are part of a big picture. And that is the spirit of the Olympics.
"Whatever you are and no matter what size you are, we are all members of a group."
Yao joined the Houston Rockets of the National Basketball Association (NBA) in 2002, and spent nine years with the team before injuries forced him into retirement in July 2011.
Along with tennis star Li Na, Yao has been credited with breaking down barriers between his country and the West.
"China is changing itself," Yao said. "The individual is always tiny. Society is always changing, but our background and our culture in our blood is pushing us forward.
"Li Na is maybe a little more aggressive than me, honestly a lot of the things she did I would not do, but deep in my heart I say, 'Yes, go ahead, I will support you.'
"I feel there is a lot of desire in our people and in our minds,
and they are afraid to speak up."
Yao recalled a comment from former IOC President Juan Antonio Samaranch as he reminded the young reporters of the media's social responsibility.
"A successful Games is not judged by itself but is judged by the media," Yao said. "That shows how much power you have and do not be afraid of that power. You have to study hard to handle that. "