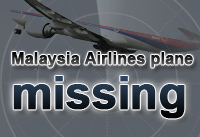 Passengers' and their nationalities:
Chinese 154 
Malaysia 38
India 5
Indonesia 7
Australia 6
France 4
USA 3 
New Zealand 2
Ukraine 2
Canada 2
Russian 1
Italy 1
Netherlands 1
Austrian 1
BEIJING
  - China on Saturday urged Malaysia to continue providing more "thorough and correct information" about missing Malaysia Airlines flight MH370.
Chinese Foreign Ministry spokesman Qin Gang said in a press release that "Chinese technical specialists are on the way to Malaysia to help the investigation."
According to Qin, China will adjust its deployment of research in a timely manner and call on all countries involved to lend a hand.
"We will also keep in touch with relevant countries and international organizations to do our own research and make our own judgment," he said.
Qin said China attaches great importance to the latest news from the Malaysian government about the missing MH370.
"It is the eighth day since MH370 lost contact with its radar signal and time is life," Qin said.
"We urge Malaysia to expand and define the search area for the missing plane and increase the intensity of the search," Qin said, adding that China needs Malaysia to call on more countries to participate in the search for the missing plane.
Flight MH370, a Boeing 777-200ER, went missing suddenly on its way to Beijing last Saturday morning, shortly after taking off from Kuala Lumpur. The plane was carrying 227 passengers and 12 crew, including 154 Chinese.