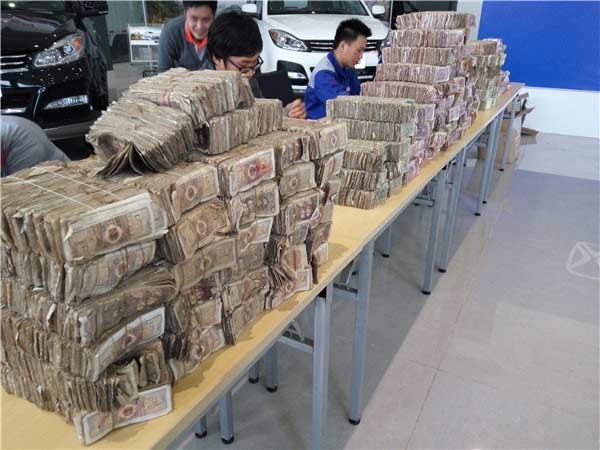 Employees count about 87,000 yuan ($13,229) of change at a car dealership in Zhanjiang, South China's Guangdong province, Jan 11, 2016. [Photo/CFP]
Man pays for van with tiny notes
A man drove a truck full of small banknotes trying to buy a van from a car dealer in Zhanjiang, Guangdong province on Monday, reported Zhanjiang Daily.
The money was kept in more than ten boxes with the face value of one jiao (0.1 yuan), two jiao, five jiao and one yuan. The sales manager Gu Liyuan said "I've never seen this much cash in my life."
According to the man, he sells food and snacks in bulk to retailers in counties and villages then retailers sell the goods to customers. Since the goods are at a very low price, he receives lots of small notes.
Though the law says banks cannot refuse small banknotes, some banks refuse to help him change the money into high-value notes due to the large amount of his small notes.
He claims buying a van is one of his ways to spend the small notes.
That's all for today's trending, do check back tomorrow for more!