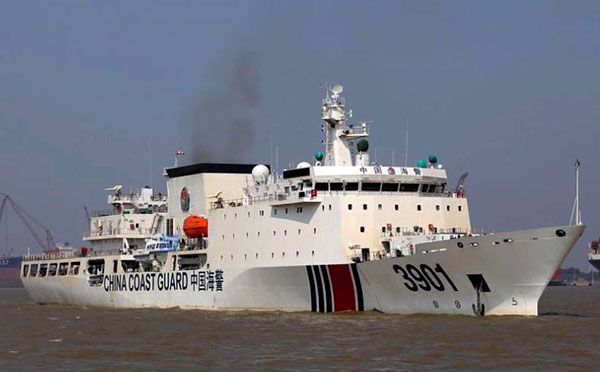 Coast Guard 3901, with a displacement of 12,000 tons, is armed with one 76-millimeter naval cannon, two close-range defense guns and two anti-aircraft guns. It is being tested before joining the China Coast Guard. Provided to China Daily
China has built a second large maritime surveillance ship, which has featured in photographs published by Chinese military enthusiasts.
The photos, published on Chinese military websites, show Coast Guard 3901 at an unidentified shipyard.
Judging from its appearance, all the major equipment has been installed, indicating that the vessel is likely to be delivered soon to the China Coast Guard.
Shipbuilding industry sources in China said this vessel, together with Coast Guard 2901, the first vessel in this class, are the largest of their kind in the world.
Each has a full displacement of 12,000 metric tons and is armed with one 76-millimeter naval cannon, two close-range defense guns and two anti-aircraft guns. In contrast, most China Coast Guard ships are unarmed or are equipped with water cannons.
Liu Bing, an equipment researcher at the China Institute of Marine Technology and Economy in Beijing, said that compared with other Chinese patrol ships, the new vessel has a much longer cruise range and can carry sufficient supplies to fulfill lengthy duties.
He said the ship has good living conditions, including entertainment and medical facilities, and can operate in all weather.
"In addition, the vessel's size enables it to engage in or withstand direct collision with other vessels," he said. "It can also carry heavy-duty helicopters to conduct air operations that smaller ships are unable to carry out."
Global Times, the Beijing-based newspaper, quoted a source as saying that Coast Guard 2901 has been assigned to the China Coast Guard's East China Sea Branch but has yet to enter active service.
The source said the vessel is undergoing tests that will continue for several months, adding that once it starts operating it will have "great superiority" over its foreign counterparts in terms of tonnage, firepower and navigational capability.
The report said that according to its designation number, Coast Guard 3901 will be assigned to the South China Sea Branch.
The world's largest coast guard patrol vessels in active service are the Shikishima-class PLH31 Shikishima and PLH 32 Akitsushima of the Japan Coast Guard.
With a full displacement of 9,500 tons, this class of vessel has two 35-mm twin cannons, two 20-mm guns and can carry two helicopters.