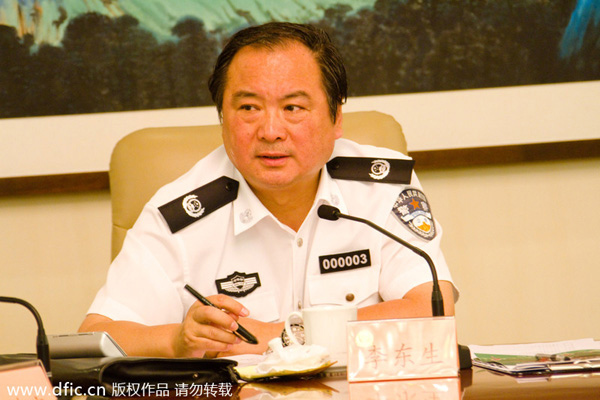 Li Dongsheng, then Vice-Minister of Public Security, listens during a meeting in Beijing, June 19, 2012. [Photo/IC]
China's former vice public security minister Li Dongsheng was jailed for 15 years for corruption offences, China Central Television reported on its official microblog account on Tuesday.
One million yuan ($152,200) worth of personal property was confiscated from Li, a former aide to ex-security chief Zhou Yongkang who was imprisoned for life for corruption in June.
Li went on trial at a court in the northern city of Tianjin in October, charged with illegally accepting almost 22 million yuan ($3.5 million) worth of assets and abusing power in positions he held between 1996 and 2013, the official Xinhua news agency said at the time.
Between 1996 and 2013, Li's positions also included deputy president of State broadcaster CCTV and member of the Commission for Political and Legal Affairs of the Communist Party of China Central Committee.
Li was put under investigation in late 2013. In June 2014, Li had been expelled from the Communist Party of China (CPC) for "serious disciplinary violations."
An investigation into Li's case found that he took advantage of his position to seek benefits for others and extorted and received bribes.
This is the latest in a series of sentences of former high-ranking officials netted in China's anti-corruption campaign. Jiang Jiemin, former head of the State-owned Assets Supervision and Administration Commission, was sentenced to 16 years in prison in October. Wang Yongchun, a senior energy executive, received 20 years in prison that month.
Since November 2012, when the new leadership took office, fighting corruption has become the top priority for the Party and the country.