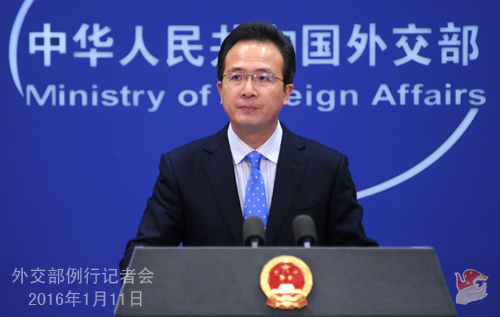 Foreign Ministry spokesman Hong Lei is seen at a daily news briefing on Monday, Jan 11, 2016. [Photo/fmprc.gov.cn]
China is playing a more active role in hot regional issues, as the first round of four-party talks on Afghanistan was held in Islamabad on Monday.
The meeting came one day after Vice-Foreign Minister Zhang Ming returned from a Middle East mediation trip following the abrupt breaking of diplomatic relations between Saudi Arabia and Iran.
Foreign Ministry spokesman Hong Lei said at a daily news briefing on Monday that Zhang had told the two countries to "stay calm and restrained" and ease the tension.
He said the first meeting of the Quadrilateral Coordination Committee to solve the Afghan issue sought to "create favorable conditions to push forward an Afghan reconciliation process" led by the Afghan people.
"China is willing to continue playing a constructive role" in the process based on respect for Afghanistan's sovereignty and the will of various parties."
Chinese special envoy for Afghanistan Deng Xijun is leading the Chinese delegation in the talks, also attended by senior officials from Afghanistan, the United States and Pakistan.
Niu Xinchun, director of the Institute of Middle East Studies at the China Institutes of Contemporary International Relations, said China seems to be playing a bigger role in hot regional issues as its overseas interests increase and responsibilities as a global power grow.
Pakistan's Senate Defence Committee Chairman Mushahid Hussain Sayed said China's presence at the four-party talks is critical and that Beijing is playing a unique role.
Dong Manyuan, vice-president of the China Institute of International Studies, said, "Afghanistan is an important neighbor of China, and Beijing expects to see a peaceful and stable Afghanistan."
The talks are intended to explore options to revive the stalled dialogue between Kabul and the Taliban, according to diplomatic sources.
The first peace talks between Kabul and the Taliban, which the US and China attended as observers, were held in Pakistan in July but became deadlocked after the death of former Taliban leader Mullah Omar was confirmed.