Xi reshuffles military headquarters
President urges new agencies to improve PLA's combat capability and readiness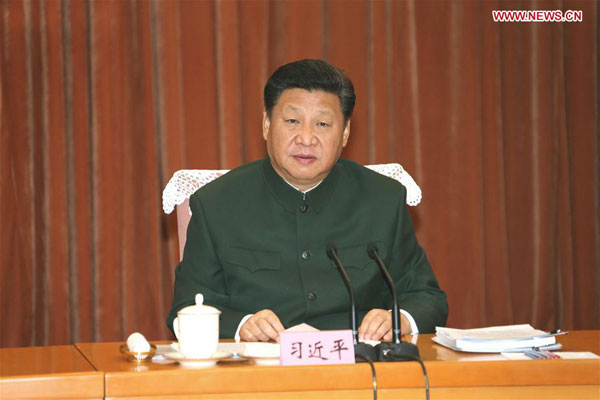 Chinese President Xi Jinping, also general secretary of the Communist Party of China Central Committee and chairman of the Central Military Commission (CMC), makes remarks during a meeting with the new heads of the reorganized organs of the CMC in Beijing, Jan 11, 2016. [Photo/Xinhua]
China has reshuffled its top armed forces agency, the Central Military Commission, as President Xi Jinping accelerates the massive, multilevel reform of the People's Liberation Army.

The previous four military headquarters - staff, politics, logistics and armaments - were dismantled and their functions and duties are now shared by 15 new agencies under the Central Military Commission.
When meeting leaders of these new agencies on Monday morning, Xi, also chairman of the Central Military Commission, said the rearrangement of the commission itself has basically concluded, describing the move as "a breakthrough" and "a crucial step" toward a stronger military.
Military leaders need to sharpen their political alertness and become better at discerning right and wrong in political matters, Xi added.
Xi urged military leaders to "frequently, actively and resolutely" align their direction with the Communist Party of China Central Committee and the CMC.
Xi asked military leaders to always firmly support their authority and staunchly follow their command.
He urged the new organs to focus on improving the PLA's combat capability and readiness so it can win modern warfare.
CMC organs must measure their work by the only fundamental standard of whether troops' fighting abilities can be improved, said Xi.
Commanders have been asked to spend more time studying and researching important military issues.
The president said PLA leaders should solicit and take into consideration opinions from lower-level units and service members when they make decisions. He also ordered the military to reduce the number of meetings, events and paperwork, as well as awards.
Colonel Wu Qian, a Defense Ministry spokesman, said at a news conference on Monday night that the reshuffle of the Central Military Commission will help it to improve management of the PLA, enable its organs to better carry out responsibilities, and facilitate with scrutiny and supervision how authorities execute powers.